Living at the center of American politics, first ladies occupy a unique position. Though they are not elected or paid, they are expected to represent the president and the country. While the ever-evolving role comes with enormous responsibility and little guidance, first ladies have used the examples of those who have come before them to establish their place within the White House.
Surrounded by powerful leaders and in the midst of consequential decisions, first ladies often play an important role in national and international affairs. Beyond hosting politicians and attending ceremonies, first ladies have headed up initiatives, influenced substantive decisions, and bridged tenuous divides. They have leveraged their positions and power to make progress and shape the future.
Related: The Fascinating Platforms of 10 First Ladies
Many of these women have had a remarkable impact on history, and the fascination with their unique and inspiring lives is never-ending. Case in point: Showtime is set to release The First Lady, a new series, on April 17th. Starring Viola Davis as Michelle Obama, Michelle Pfeiffer as Betty Ford, and Gillian Anderson as Eleanor Roosevelt, The First Lady will reframe American history through the eyes of the women in the White House.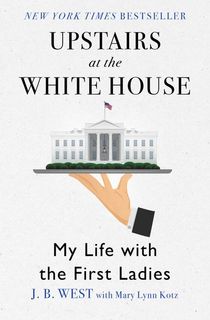 Upstairs at the White House
This book offers unparalleled insight into the lives of not one, but six first ladies. First as assistant to the chief usher, then as chief usher of the White House, J. B. West worked at 1600 Pennsylvania Avenue for 28 years, during which time Jackie Kennedy called him "one of the most extraordinary men I have ever met." His role entailed managing the daily events and operations of the bustling household; anything from the planning of weddings and funerals to overseeing renovations. In this New York Times bestseller, West divulges a behind-the-scenes look at his long and storied career beside the first ladies.
Abigail Adams
Woody Holton's Bancroft Prize–winning biography takes readers back to the Founding Era to reexamine the life of Abigail Adams. Known for her call to "remember the ladies," Adams advocated for women's rights. She was outspoken in her beliefs and challenged the ideas of the men who dominated that time period. She even managed to amass her own wealth at a time when women did not have property rights. In exploring Adams' remarkable life story, Holton brings the early days of America, along with some of its most memorable figures, into vibrant focus.
Related: You Know the Founding Fathers, Now Meet the Founding Mothers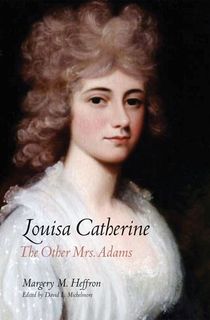 Louisa Catherine
We can't forget the other Mrs. Adams. Louisa Catherine Johnson Adams was catapulted into international recognition when her husband John Quincy Adams became the United States' sixth president. As one of only two first ladies born outside the US or the preceding Thirteen Colonies (the other being Melania Trump), this biography begins with Adams' birth in London. It covers her courtship with her politician husband through her contribution to his bid for the presidency, her successful diplomacy in tsarist Russia, and beyond. The New York Times Book Review called this a "sparkling biography" and a "fascinating, if partial, portrait of an exceptional woman."
A Perfect Union: Dolley Madison and the Creation of the American Nation
On the heels of the Revolutionary War and the nation's newfound independence, the United States became embroiled in the War of 1812. With tensions as high as ever, Dolley Madison emerged as an unlikely broker of cooperation. Working behind the scenes, this first lady fostered dialogue between fiercely divided politicians and became a beloved figure. By revisiting Madison's place in history and her role within the nation's development, Catherine Allgor illuminates a largely forgotten first lady.
Mary Todd Lincoln: A Biography
Mary Todd Lincoln faced many trials and tragedies in her life. As the country faced down civil war and erupted in fighting, Lincoln struggled through personal upheaval time and again. She lost three of her four children before her husband's infamous assassination. Following his death, Mary Todd Lincoln was committed to an asylum by her only living child. In her compelling and nuanced biography, Jean Baker paints a full portrait of Mary Todd Lincoln that The New York Times called a "striking success."
Lady First: The World of First Lady Sarah Polk
Sarah Polk was an essential figure in orchestrating James Polk's successful bid for the presidency. Through the "parlor politics" of the day, she charmed politicians and carefully built the connections necessary to send her husband to Washington. There, she used her role as first lady and her sharp sense of strategy to win favor for her ideas.
Wielding influence and maneuvering adeptly, Polk pushed forward her own agenda, which included issues of international importance, like garnering support for the Mexican-American War. Shedding light on a first lady able to play politics as well as any other, Amy S. Greenberg's biography dives into the behind-the-scenes dealings of the era.
Eleanor
A New York Times bestseller, this biography of Eleanor Roosevelt offers a compelling portrait of the first lady, activist, humanitarian, and trailblazer. Spanning her entire life, the expansive biography details her marriage to FDR, her other personal relationships, and her professional achievements.
Related: 30 Biographies of Remarkable Women That You Need to Read
Both compassionate and charged, Roosevelt advocated ceaselessly for the American people, and then for people everywhere. Delving into her life's work, David Michaelis chronicles her time as first lady, her pursuit of progressive ideals, and her efforts to build understanding and unity within the international community. In his striking and inspiring biography, Michaelis paints a richly detailed portrait of one of the most important women of the 20th century.
Jacqueline Bouvier Kennedy Onassis: The Untold Story
In this New York Times bestselling biography, Barbara Leaming offers new depth and insight into the life of one of America's most famous first ladies. Exploring Jackie Kennedy Onassis' life in full, Leaming delves into her childhood, her career as an editor, her glamorous marriage to JFK, and how she transformed the role of first lady.
Related: 10 Books About the Kennedys
Continuing to explore her experiences following her husband's assassination, Leaming's biography goes on to reveal Jackie on an entirely human level. Pushing past the publicity, Leaming provides readers with "an intimate and revealing look at one of the twentieth century's most remarkable―and misunderstood—women" (Kirkus Reviews).
Lady Bird: A Biography of Mrs. Johnson
President Johnson, better known by his nickname LBJ, has taken on a larger-than-life presence, marked by his flaring temper and coercive politics. His wife Claudia, nicknamed Lady Bird, has received much less attention, despite her fascinating role in his administration.
Related: The 15 Most Fascinating Biographies of the Last 25 Years
Diving into Lady Bird's upbringing, background in the business world, and strained marriage, this biography explains how her experiences shaped her into the first lady she became. A force to be reckoned with throughout LBJ's political career, Lady Bird's impact on her husband often went unnoticed. Using conversations with Lady Bird and interviews with those who knew the Johnsons best, this book reveals an entirely absorbing story.
Nancy Reagan: The Unauthorized Biography
Exploring the life of Nancy Reagan, Kitty Kelley uses more than 1,000 interviews to accurately portray an ambitious, strategic, and unrelenting first lady. Kelley explains how Nancy Reagan influenced the values and policies of her husband's administration, which have continued to reverberate through decades of American politics. Through her riveting account, Kelly offers a glimpse not only into this famous first lady, but also the United States in the 1980s.
Betty Ford: First Lady, Women's Advocate, Survivor, Trailblazer
From her platform in the White House, Betty Ford spoke out on taboo subjects and broke the silence that had long kept personal struggles behind closed doors. Using her own experiences, Ford brought attention to a range of issues, from breast cancer to alcoholism. She advocated for women's rights, supported the legalization of abortion, and discussed sexuality, sparking open and honest conversations.
Sharing her undaunted spirit, Lisa McCubbin traces the first lady's life, from her early years growing up in Michigan, to her devoted relationship with Gerald Ford, to her advocacy that gave a voice to so many. Using interviews with all of Ford's children, McCubbin creates an "insightful and beautifully told look into the life of one of the most public and admired first ladies" (Publishers Weekly).
The Matriarch: Barbara Bush and the Making of an American Dynasty
Like Abigail Adams, Barbara Bush is both the wife and the mother of a president. Through her years in American politics, advising her husband and then her son, Barbara Bush helped to shape an era. Though many of her contributions have gone unnoticed, this book brings light to the issues Bush sought to address, such as improving literacy in the United States, softening attitudes toward those with HIV and AIDS, and bringing the Cold War to a close.
Related: 20 Influential Women in History You Need to Know About
Beyond her significant and enduring work, this biography shares Bush's personal life, from her loss of a child to her experiences with depression. With more than 100 interviews with those who knew her and discussions with Bush herself, this is a "rare biography of a public figure that's not only beautifully written, but also shockingly revelatory" (The Atlantic).
A Woman in Charge
Excelling in a political career of her own, Hillary Clinton's time as first lady long ago gave way to other prominent positions. She graduated from Yale Law School, carried out legal work to help children and families, and became the first female senator from New York. Offering insight into the questions that so often swirl around her, Pulitzer Prize-winning journalist Carl Bernstein chronicles Clinton's professional life leading up to the 2008 election.
In the years since 2008, Hillary Clinton has continued to play a central role in American politics. To learn more about her time as U.S. Secretary of State, check out The Secretary: A Journey with Hillary Clinton from Beirut to the Heart of American Power, in which Kim Ghattas shares an exclusive account of Clinton's four years in the role. To reexamine Clinton's historic 2016 presidential campaign, look to Clinton's memoir, What Happened, in which she reflects on her campaign and shares her outlook on the future.
Michelle Obama: A Life
Michelle Obama grew up on the South Side of Chicago before going on to attend Princeton University and Harvard Law School and establishing herself as a successful lawyer. Joining Barack Obama in the White House, she lived by her popular phrase "when they go low, we go high." In his biography of the remarkable first lady and the first Black woman to fill that role, journalist Peter Slevin provides an informative look into the context of Obama's early years, education, career, and time in the White House.
To hear about Obama's life in her own words, read her New York Times bestselling memoir Becoming, which won the NAACP Image Award and served as the basis for the Emmy-nominated Netflix documentary of the same name.
The Art of Her Deal: The Untold Story of Melania Trump
Melania Trump has diverged from the first ladies that have come before her in many ways. A reluctant first lady, there is much more to her life than the brief facts you've heard mentioned on the news. From her upbringing in Slovenia, to her career in modeling, to her complex marriage with Donald Trump, Pulitzer Prize–winning reporter Mary Jordan "deftly, and without agenda, decodes Melania" (NBC News).
Featured photo of first ladies at the dedication of the Ronald Reagan Presidential Library: Wikimedia Commons