When it comes to salacious modern history, there's no better place to turn than Kennedy lore. Ever since Joe Sr. burst onto the scene in the 1930s, this brood of powerful, charismatic—and often corrupt—all-Americans have dominated our news cycle and, even more recently, the big screen.
The 2018 film Chappaquiddick rehashes one of the most infamous Kennedy stories: The 1969 fatal crash, in which Ted Kennedy drove his car off a bridge, fled the scene—and left his passenger, Mary Jo Kopechne, inside. Conspiracists went nuts: Why did Ted wait so long to contact the police? Was he drunk? Did Kopechne die upon impact, from drowning, or was her death an unfortunate byproduct of Ted's selfishness? The film seeks to cut to the truth and offer a definitive account of the incident that destroyed Ted's aims for the presidency.
Of course, there are many more Kennedy scandals to sift through—and an equal amount of accomplishments and tragedies, too. For all their schemes and wiles, they were a family who worked for change and played a major role in creating the America we know today. Below, you'll find a list of books about the Kennedys that explore their high-profile careers, fascinating personal lives, greatest successes, and most notorious wrongdoings. However you feel about America's royal family, you have to admit that they're always the center of an interesting tale.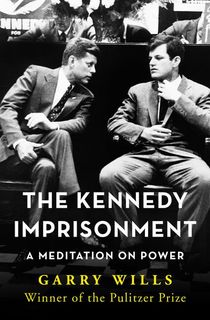 The Kennedy Imprisonment
Pulitzer Prize-winning author Gary Wills examines the entire Kennedy clan to uncover the source, attainment, and maintenance of their illustrious power. He points a finger at the patriarch, claiming Joseph was the first to manipulate facts and fictions according to his needs. It was a behavior passed onto his children—seen in the tales of JFK's Navy heroics to coverups of Ted's drunken antics. By tracking decades' worth of corruption, The Kennedy Imprisonment creates a compelling but unforgiving portrait of the American royal family.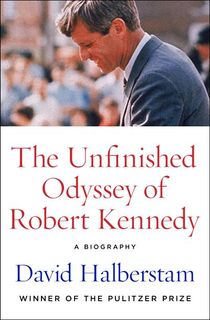 The Unfinished Odyssey of Robert Kennedy
As an anti-war candidate and advocate for struggling minorities, Bobby Kennedy seemed like the perfect antidote to the unrest of the 1960s. But on June 5, 1968, that dream was ripped away when Bobby, fresh from a victory in the California primary, was shot by Sirhan Sirhan. But though he never sat in the Oval Office chair, Bobby's legacy lives on in David Halberstam's book, which tracks his journey from the U.S. attorney general to campaign manager to New York senator. Called "the best book" written on the subject (New York Times), it's an insightful look at a man who wanted a better future for his country, but whose own future was tragically stolen.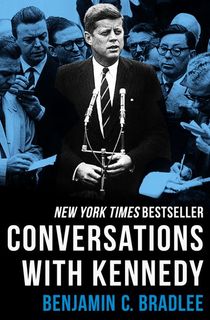 Conversations with Kennedy
Benjamin C. Bradlee was JFK's right-hand man from 1958 to 1963, serving as a trusted confidante and presidential tour buddy. His New York Times bestseller offers a glimpse inside their five-year relationship—from casual weekend hangouts to serious political discussions—and exposes a new side to Kennedy, the people's president: Kennedy, the caring friend.
Related: Fidel Castro, the CIA, and John F. Kennedy's Assassination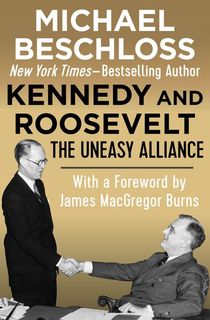 Kennedy and Roosevelt
Joseph Kennedy was as green as grass when he first worked with Franklin Roosevelt, the future president of the United States. Despite their different backgrounds—Roosevelt was quite famous, while Kennedy was merely up-and-coming—their partnership was an effective one. But it wasn't always smooth sailing: They disagreed on America's role in the Second World War, and an infamous "" indicates a certain level of antagonism and distrust. Michael Beschloss studies these contrasts, and more, in his book—revealing the inner workings of a bond between two very powerful, very ambitious men.
Last Lion: The Rise and Fall of Ted Kennedy
The youngest of the Kennedy brood, Ted Kennedy may also be the most notorious—shadowed not just by his family's legacy, but by the 1969 Chappaquiddick incident. And yet, years of misbehavior and professional failures were followed by an impressive, 180-degree transformation in late adulthood. Last Lion chronicles this evolution from a disgraced party boy and politician into a wise, progressive spokesman. The result is an eye-opening biography that acknowledges Ted's faults without forgetting his accomplishments.
The Kennedy Wives
The Kennedy women were as fascinating as the men in their lives, and Amber Hunt's New York Times bestseller is a testament to their equal strength, intelligence, and presence. By exploring the many facets of their lives—from their marriages to their careers—Hunt exposes the inner struggles and triumphs of Rose, Jackie, Ethel, Joan, and Vicki. When burdened by public scrutiny or dogged by tragedy, these women took their hardships on the cuff and kept their heads high.
The Nine of Us: Growing Up Kennedy
We'll never get the chance to live inside the Kennedy household, but perhaps The Nine of Us is the next best thing. Written by Jean Kennedy Smith—the sole survivor of her eight siblings—it's a poignant memoir about growing up among her precocious brothers and sisters. In it, she describes how her parents, Rose and Joe, primed the Kennedy kids for the world stage, turning mealtimess into debates and thoughtful discussions. These kinds of anecdotes are included throughout—all accompanied by personal photos—and they help provide a view of the great American family you can't find anywhere else.
Rosemary: The Hidden Kennedy Daughter
For decades, the media has swarmed with stories of the Kennedy kids—all except one. Her name was Rosemary, and until this 2015 bestseller, she'd languished in the shadows of her more well-known siblings. Though she led a childhood much like JFK's and Bobby's—one filled with private schools and world travels—hers was haunted by mental disability. Ashamed and uneducated, Joe Kennedy arranged a hush-hush lobotomy, which then left her incapacitated for life. As Rosemary brings the long-hidden deception out of the dark, it shines a light on this remarkable woman for the very first time.
Kick Kennedy
Like her brothers, Kathleen Kennedy met a tragic, premature end—but that isn't the complete "Kick" story. Magnetic, daring, and the apple of her father's eye, she came of age during a time of great uncertainty, navigating the wilderness of love and sex as the world braced for another global war. Ultimately, Kick would find that love and lose it—then find it again in 1948, and pay an unfair price. Barbara Leaming covers it all in her "strikingly original" biography (Wall Street Journal), paying tribute to a woman who brought her family so much joy and still had so much more to give.
Come to the Edge
Christina Haag was just a kid when she met JFK Jr. who, likewise, was merely a prep school boy in her social circle. Years later, the pair would reunite after college graduation, turning from childhood acquaintances to steadfast lovers. Haag writes of their transformative, five-year relationship in her New York Times bestselling memoir, providing a unique perspective that eschews tabloid-style stories for "tender, aching memories" (Los Angeles Times).
This post is sponsored by Open Road Media. Thank you for supporting our partners, who make it possible for The Archive to continue publishing the history stories you love.