Thomas Jefferson was born on April 13th in the then-colony of Virginia. The third of 10 children, Jefferson had three brothers and no less than six sisters. His father was a planter and surveyor, and while Jefferson's family were not among the elite landholders of the region, both his grandfather and great-grandfather held public office within the colonies. Jefferson was born a British citizen but ultimately became one of America's Founding Fathers and a principal author of the Declaration of Independence.
Jefferson was the first Secretary of State, the second vice president of the United States—serving under both George Washington and John Adams—and the third president. As president, Jefferson oversaw the Louisiana Purchase and helped to protect America's shipping lanes against Barbary pirates. Today, many historians also believe that Jefferson, who famously wrote that "all men are created equal" also fathered several children with his slave Sally Hemings—the half-sister to his late wife.
Related: 7 of the Best American History Books
On the occasion of Jefferson's birthday, here are 10 of the best books out there to learn more about one of our Founding Fathers than you might have read in your eighth-grade social studies book…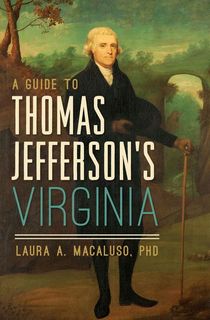 A Guide to Thomas Jefferson's Virginia
"Few prominent Americans are as associated with a place as Thomas Jefferson is with Virginia." So begins the back-cover copy of Laura A. Macaluso's book, which traces the length and breadth of the state that Jefferson called home, and which inspired him to write his only published book, Notes on the State of Virginia. Much more than a travel guide, however, Macaluso's book details the impact that the state had on Jefferson—and that he had on it—in this heavily-researched volume on one of America's first statesmen.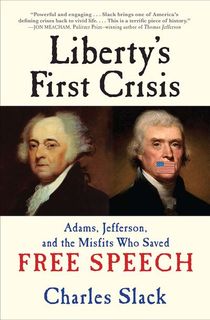 Liberty's First Crisis
In 1798, while Thomas Jefferson was still serving as vice president under John Adams, Adams and the Federalist members of Congress passed the Sedition Act, which criminalized criticism of the government. So soon after the nation's founding, already the First Amendment was under attack. This "illuminating" (Kirkus Reviews) look at a turning point in American history shows how Jefferson and many others stood up against what they saw as an overreach of political power.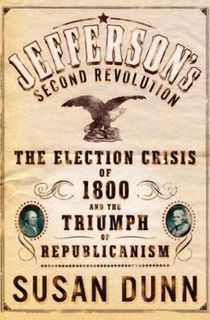 Jefferson's Second Revolution
In 1800, incumbent John Adams faced his own former vice president in the run to see who would become the leader of the country. However, through a loophole within the Electoral College, Jefferson tied with his own running mate, Aaron Burr. The resulting constitutional crisis threatened to tear the fledgling nation apart—and its resolution helped to pave the way for the Civil War. In this "excellent" (Booklist) portrait of this revolutionary moment, historian Susan Dunn showcases one of the crucibles in which modern American government was formed.
American Sphinx
"The best and worst of American history are inextricably entangled in Jefferson," author Joseph J. Ellis once wrote. In his approachable biography, subtitled "The Character of Thomas Jefferson," Ellis tackles both the good and the bad, highlighting in layman's terms the many contradictions of the man who drafted the Declaration of Independence and helped to found a nation. He shows the entirety of Jefferson, as both "a slaveholding libertarian who was capable of decrying miscegenation while maintaining an intimate relationship with his slave" and "the enemy of government power who exercised it audaciously as president."
Twilight at Monticello
Written by a political speechwriter and former Congressional press secretary who once held a residential fellowship at the International Center for Jefferson Studies, this book brings new light to the former president's last days in his home at Monticello in Virginia. Drawing from never-before-seen letters and documents from Jefferson's relatives and neighbors, Alan Pell Crawford creates a more-than-usually intimate portrait of Jefferson as private citizen.
The Jefferson Image in the American Mind
While studying at Harvard, Merrill D. Peterson wrote a dissertation on Jefferson's lasting impact on American thought. This dissertation later became Peterson's first book, originally published in 1960. Focusing not on the former president nor on his life or work, Peterson instead chose to chart Jefferson's influence on American thought and imagination, concerned "not primarily with the truth or falsity of the image" but rather "with its illuminations of the evolving culture and its shaping power."
The Hemingses of Monticello
Written by a Harvard law and history professor, this chronicle of three generations in the lives of the family of Sally Hemings, the slave with whom Thomas Jefferson is believed to have fathered several children, won the Pulitzer Prize and the National Book Award, and was named one of the best books of the year by the Washington Post, Time, and many others. While the exact nature of Jefferson's relationship with Hemings will probably never be known, Gordon-Reed's sensitive portrayal of the Hemings family helps to place these historical events in their proper context for modern readers.
Thomas Jefferson's Crème Brûlée
While most Jefferson biographies unsurprisingly focus on his contributions to politics and his role as one of the Founding Fathers of the United States, Thomas J. Craughwell's unexpected book takes as its jumping-off point a deal that Jefferson struck in 1784 with one of his slaves, James Hemings (elder brother of Sally). Hemings would accompany Jefferson to Paris in order to master the art of French cuisine, and in exchange, Jefferson would grant his freedom. Together, the two introduced America to everything from French fries and Champagne to macaroni and cheese and crème brûlée.
Thomas Jefferson and the Tripoli Pirates
Thomas Jefferson became president in 1801. One of the earliest challenges he faced was pirates from Africa's Barbary Coast who frequently captured American merchant ships. In this tale of intrigue and daring upon the high seas, authors Brian Kilmeade and Don Yaeger chart one of the fledgling nation's earliest wars, and how Jefferson's actions during the Barbary Wars helped to secure America's future position as a world superpower.
Madison and Jefferson
In a starred review, Publishers Weekly called this dual biography of the third and fourth presidents of the United States, "An important, thoughtful, and gracefully written political history," while Newsday raved that it contains, "Enough colorful characters for a miniseries." Entertainingly written and supported by a broad range of original sources, this deep look at two of the most important men in American history helps to show how the two presidents interacted with each other, and how they shaped the fate of a nation.
This post is sponsored by Open Road Media. Thank you for supporting our partners, who make it possible for The Archive to continue publishing the history stories you love.
Featured photo: Wikimedia Commons