When we learned about George Washington in school, we were taught the basics: He was the first president, he wore a powdered white wig, and he was rumored to have cut down a cherry tree (not true, by the way). We're reminded of his everlasting influence when we grip one dollar bills or feed quarters into vending machines. But there's a lot more to George Washington—from his policies to the precedents he set that later presidents followed for hundreds of years—that is worth exploring.
These informative and eye-opening George Washington books will challenge what you think you know about him and the legacy that he left for the United States.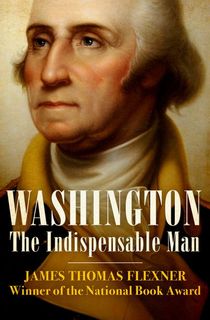 Washington
This text includes all four volumes of Flexner's ambitious biography of Washington's life. It spans from Washington's birth, to his work as a businessman in Virginia, to his views on the institution of slavery. From the very first sentence, Flexner makes the claim that "No American is more completely misunderstood than George Washington", and the rest of the text proves just that.
Related: "Villainous Perfidy": Benedict Arnold's Betrayal of George Washington
Washington is often viewed as being above moral reproach. Flexner gives him a sense of realness and flawed humanity by describing how Washington's policies could be contradictory and how England and France influenced the new American democracy.
Founding Father: Rediscovering George Washington
Brookhiser divided his book into concise sections: career, character, founding father, death. Noting that Washington distanced himself from others while he lived—which translated to his legacy—Brookhiser explores the idea of Washington really being an unknown hero. We revere him, but we know very little about who he was aside from politics.
The book is mainly focused on Washington's life once he became a strong military leader and, eventually, a respected politician. This book is perfect for those who wonder how Washington's legacy and leadership shaped the current American political landscape.
Washington: A Life
Chernow wants the reader to know that George Washington was a man filled with passion, strong mood changes, and vivacity. The book won the 2011 Pulitzer Prize for Biography–with the breadth of information in the text, it is clear why. The book details the entirety of Washington's life, from his boyhood days to his final days at Mount Vernon and everything in between. Chernow includes personal details about Washington, like his role as a mentor to his stepson, John Parke Custis, whose children Washington financially supported after Custis's early death. This tenderness is juxtaposed with the rigid air that Washington favored when in public, which adds to his complicated portrayal in American history.
George Washington: First Guardian of American Liberty
Crawley tackles the details that are sometimes neglected in other biographies: Washington was a slaveholder, and much of his wealth came from his wife's deceased ex husband. This book is best for beginners to our first president's legacy, who want a basic understanding of Washington. Crawley's take also manages to offer new perspectives to those who have read other works focused on Washington's life and accomplishments. Crawley makes it clear in his introduction that he is trying to offer a full narrative of Washington's life, not one that is meant to destroy his honor. He argues that Washington's flaws are in part due to the time period that he lived in, and readers should understand and accept that.
George Washington's Secret Six: The Spy Ring That Saved the American Revolution
America almost lost the Revolutionary War just after it started. After a failed battle in New York City in August 1776, General Washington and his troops retreated–but he had to devise a new strategy in order to stay in the war. How was he able to salvage the war and ultimately turn it into a victory for the independent cause? He recruited a network of spies called the Culper Spy Ring.
Related: George Washington Was Nearly Impossible to Kill
Kilmeade and Yaeger present the men who made up the Culper Spy Ring and their unexpected backgrounds. One owned a tavern, while another owned a coffee shop, a third was a known bachelor on Long Island, and one man was an unsuspecting Quaker merchant— just to describe a few. The six men in the Spy Ring are rarely written about, but without them, the outcome of the American Revolution may have been very different. A different take on a typical Washington biography, the book focuses on those who helped Washington become a successful general.
Young Washington: How Wilderness and War Forged America's Founding Father
Released just this year, Young Washington is already making its mark in the world of George Washington biographies. Stark focuses on Washington before his success as a general–back when he was just a cocky, unfocused soldier in the British Army. The book details how Washington's actions set in motion the French and Indian War when he was only in his twenties, which ultimately influenced the beginnings of the American Revolution. Exploring Washington's wilderness adventures and the early battles that shaped his military career, Stark traces the path of the man who became America's first president.
George Washington, Spymaster: How the Americans Outspied the British and Won the Revolutionary War
Another book detailing the network of spies that George Washington utilized during the American Revolution, George Washington, Spymaster is a riveting reconstruction of how Washington discovered, used and kept his spies secret. This book is accessible enough for children and informative enough to keep any adult invested.
Related: 9 Fascinating Books About the Founding Fathers of America
Not all of the spies in Washington's network had the purest of intentions. Some were double agents, and all had the ability to be duplicitous. Washington had never even met all of the spies working for him, but he trusted them to work for the betterment of the Patriot cause. The spies employed techniques like using invisible ink to send secret messages, which may leave you picturing the Revolutionary War as a spy movie.
1776
In order to understand George Washington's goal in achieving independence, it is imperative to know more about the other key players involved in the American Revolution—on both sides of the issue. Though the text primarily focuses on Washington's role as a military leader, McCullough also mentions King George III and Continental Army heavyweights Nathanael Greene and Henry Knox. One of the classics in the history of the American Revolution, anyone interested in the birth of our nation or the first president should read 1776.