The story of Helen Keller is one that we're all familiar with. Following a childhood illness, Keller lost her sight and hearing before the age of two, leaving her almost entirely unable to communicate with the world around her. At the age of seven, a teacher named Anne Sullivan intervened to teach Keller language skills, including reading and writing. The rest, of course, is history.
Keller is an icon of triumph over adversity, and the basics of her story are known to many. However, her life was far more full and nuanced than what school lessons can convey. In order to fully appreciate the complexities and contradictions of Helen Keller's life, we've compiled six key texts that help tell the full story.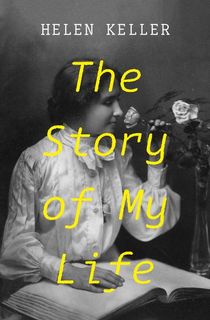 The Story of My Life
If one wants to know about and understand Helen Keller, the best place to begin is with the woman's own words. Keller was a prolific author who published many works during her lifetime and tackled an array of topics, including politics and faith. The Story of My Life is, as the title suggests, her own retelling of her youth and her discovery of the beautiful wide world, thanks to the dedication of Anne Sullivan.
Related: The 16 Best Autobiographies To Change Your View of History
This book recounts the first 22 years of Keller's life, including that now-iconic moment with the water pump that is seared into all of our memories. The real verve of this book, however, is in Keller's stunning prose. Her talent as a writer was undeniable and her joy for life is evident on every page, even as she describes moments of pain.
The Miracle Worker
While The Miracle Worker is technically a work of fiction, it's a crucial part of Keller's story, and one that needs to be experienced in order to fully understand her place in history. Long a staple of high school English classes, William Gibson's play (and its Oscar-winning film adaptation, starring Anne Bancroft and Patty Duke) cemented the near-mythic image of Keller and Sullivan in the public eye.
For many Americans, it was The Miracle Worker that first allowed them to fully understand the enormity of Keller's condition and the ferocity of her encounters with Sullivan. The play focuses primarily on the inimitable dynamic between student and teacher, bound together through their own unique form of language. While the play may be a product of its time, it's hung around and remained an academic favorite for decades for a reason.
Helen Keller: A Life
There are several conventional biographies of Keller that we could list here, but we've gone with this extensively detailed one by Dorothy Herrmann. Originally published in 1999, Herrmann's book sought to strip back much of the sentimentality that had come to embody Keller's story.
Related: Recharge with 10 Books About Inspirational People
If you're looking for a fully comprehensive Helen Keller book, then this is a good place to start. Herrmann's research is intense and her scope ambitious, but her prose is highly readable and never overwhelms the reader with impenetrable academic speak. Like the best biographies, Helen Keller: A Life seeks to understand the myth while unpacking the truth.
The Radical Lives of Helen Keller
Many of us know the basic details about Helen Keller, from her childhood troubles to the inspiration she offered to countless people. This is the Keller who has been enshrined in history, but it's not the full story. As Kim E. Nielsen explains here, the real woman was far more radical than her sanitized image suggests.
Related: 12 Immersive Biographies to Lose Yourself In
Keller was deeply involved in anti-capitalist and pro-union activism. She worked towards women's suffrage and the destigmatizing of birth control. Her disability politics were sometimes controversial, such as her support for lip-reading over sign language. All of these details offer a far richer understanding of Keller. The Radical Lives of Helen Keller fully exposes the multi-layered truth of its subject's life and her intersections with the blind and deaf communities.
Beyond the Miracle Worker
After filling in the gaps in Keller's life, Kim E. Nielsen returned to the story to deftly tease out the other side of the dynamic: the life of Anne Sullivan. Keller's teacher and lifelong companion has become just as much of a towering figure as her student. In reality, Sullivan was another woman whose story was more complex than it first seems. Anne Sullivan Macy even described herself as a "badly constructed human being," and Nielsen explores what that fully means.
Sullivan was the highly ambitious daughter of immigrants who dealt with her own disability and struggled with ill health, depression, and a troubled marriage during her lifetime. Contrary to the portrait of domestic bliss painted by the media, Sullivan's relationship with Keller as an adult was often deeply co-dependent, and Sullivan came to rely heavily on her former student both emotionally and financially. This is the perfect companion book to The Radical Lives of Helen Keller.
Blind Rage: Letters to Helen Keller
For much of writer and academic Georgina Kleege's childhood, Helen Keller was something of her nemesis. As a young blind girl learning how to navigate her disability, she felt burdened by the vast legacy of Keller and the weighty societal pressure to live up to her image. She wondered how any blind and/or deaf person could ever hope to emulate Keller's achievements.
Related: 30 Biographies of Remarkable Women That You Need to Read
Blind Rage takes the form of an investigation via letters, as Kleege examines Keller beyond the narratives that simultaneously deified and infantilized her. Kleege imagines conversations with Keller, challenging her to reveal more of herself than the biographies and starry-eyed pop culture depictions offered. This is a book that goes beyond the historic to dive into the personal, while unpacking how the insurmountable legacy of Helen Keller has impacted people with disabilities over the past several decades.