History is full of fascinating people who led fascinating lives, but sometimes, we're not always in the mood to learn about those lives from textbooks. That's where biographical fiction comes in! These books are based on the lives of real people throughout history with some fiction and literary elements thrown in for your reading pleasure. From the courts of Tudor England to the chaotic years before the American Civil War, here are eight immersive biographical fiction books.
Related: 50+ Historical Fiction Books That Will Take You Around the World
Burr: A Novel
Before Hamilton, there was Gore Vidal's Burr. It tells the story of the politician years after he killed Founding Father Alexander Hamilton. The fatal duel and a treason trial a few years later have made Burr a villain in the eyes of the American public. Now, in the last years of his life, he agrees to tell his life story to a young journalist while they also attempt to navigate the chaotic years of Andrew Jackson's presidency.
The Hours
In 1923, author Virginia Woolf sits down to write her novel, Mrs. Dalloway. As she attempts to write, she worries about the state of her mental health. In 1949, pregnant housewife Laura Brown would much rather be reading Mrs. Dalloway than preparing for her husband's birthday party. And in the late 1990s, Clarissa Vaughan, who shares a first name with Mrs. Dalloway, is planning a party for her dying friend.
Related: 5 Dramatically Detailed Biographical Fiction Novels
This Pulitzer Prize-winning novel tells the story of a day in the lives of three women who are connected across the decades through one piece of literature.
Z: A Novel of Zelda Fitzgerald
No one in Zelda Sayre's family wants her to marry F. Scott Fitzgerald. She's a true Southern belle and socialite, and he's a penniless northerner who talks endlessly about becoming a famous writer. But when Fitzgerald sells his first novel to a publisher, no one can get in Zelda's way. This is the beginning of their Jazz Age love story.
Related: These Essential Authors Were Shaped By Their Time in War
Soon, Fitzgerald's dreams come true as his writing makes him a celebrity, and his wife becomes just as noticeable. They spend their days jetting back and forth from New York City to Hollywood until they eventually head to France, where they meet the greatest minds of their era. But all parties must come to an end, and Zelda will struggle to find her own identity outside of being the great author's wife.
Wolf Hall
No list of biographical fiction would be complete without Hilary Mantel's Booker Prize-winning Wolf Hall, the first book in her acclaimed trilogy that chronicles the life of King Henry VIII's infamous advisor Thomas Cromwell. Wolf Hall follows Cromwell's ascent to power in Henry's court. A master politician, Cromwell is able to take advantage of Henry's growing frustration with the Catholic Church not letting him divorce his first wife. Meticulously researched, Wolf Hall is beloved by historians and casual readers alike.
Girl With a Pearl Earring
In 1664, 16-year-old Griet is forced to take up work as a maid after her father is blinded in an accident. Due to his membership in the artists' guild, she ends up working in the household of famous painter Johannes Vermeer. As Griet struggles to get ahead in this upper-class home, her own home life is falling apart at the seams. Luckily, she finds an escape in the art of her employer. Over the next few years, the two form a bond that will lead to Griet becoming the subject of Vermeer's most iconic work.
Related: 10 Intriguing Art History Books
Cloudsplitter
At the end of his life, Owen Brown ruminates on the legacy of his father, the abolitionist John Brown. As Owen and his brothers grew up, the country seemed to be tearing itself apart, and their father was growing increasingly radical.
Related: 19 Essential Civil War Books
John Brown's failed raid on Harpers Ferry that would result in his execution looms over the story. What results is a meditation on family, morality, and violence as Owen grapples with the same questions that historians have about John Brown. Was he a terrorist or a martyr for a just cause?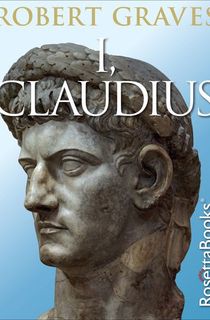 I, Claudius
Robert Graves' 1934 classic I, Claudius was a pioneering work in biographical fiction. In the early decades of the Roman Empire, no one thinks much of the nobleman Claudius. With a limp and a stammer and a preference for intellectual life, he's not likely to challenge anyone's claim to the imperial throne. It makes him a laughingstock in the eyes of his family, but it also keeps him alive.
Related: Beware the Ides of March...
But when his nephew Caligula dies, Claudius is suddenly declared emperor. As the three emperors before him have ruled, fought, and died, Claudius has watched from the sidelines. Now, he will have to use all he has learned to keep control of Rome and to stay alive.
Circling the Sun
When Beryl Markham's parents first moved to Kenya, they wanted a life very different from the one they had back in England. And Beryl's childhood is far from ordinary. She grows up free-spirited and independent and is always more than happy to buck convention. When her family begins to fall apart, she sets out to make her own way in the world.
Beryl eventually crosses paths with the dashing safari hunter Denys Finch Hatton and quickly falls for him. Unfortunately, he already has a lover in the writer Karen Blixen. Still, Beryl has never let anything stop her from getting what she wants before. In Circling the Sun, Paula McLain tells the story of how a love-struck girl grew to become a pioneering female pilot.