"The eternal mystery of the world is its comprehensibility … The fact that it is comprehensible is a miracle."
Albert Einstein dedicated his life to unraveling the mysteries of the universe—mysteries he believed could be understood. More than a century after his "miracle year" papers shook the scientific world in 1905, scholars and laypeople alike still turn to the famed physicist for enlightenment and a generous dose of cosmic humor. Einstein left behind a wealth of wisdom in his scientific and philosophical pursuits. With that in mind, we collected the best Albert Einstein books, spanning intimate biographies to illuminating collections of Einstein's written works.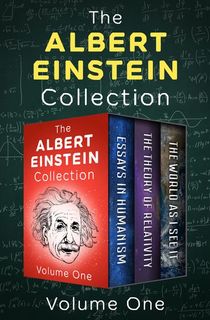 The Albert Einstein Collection
This comprehensive box set delivers a fascinating look into the many facets of Einstein's mind, from his scientific understanding of the universe to his reflections on the everyday world. In The Theory of Relativity and Other Essays, Einstein traces the thought process behind his signature discoveries, guiding us through the research that led to his breakthroughs. Essays in Humanism collects essays penned between the turbulent years of 1931 and 1950 and finds Einstein reflecting on everything from militarism and atomic war to world poverty and the global economy. The World As I See It, captures Einstein's humanitarian side, collecting his observations about philosophy, religion, and contemporary affairs. The Albert Einstein Collection serves as a marvelous introduction to one of history's most revered intellects.
Related: The 15 Most Fascinating Biographies of the Last 25 Years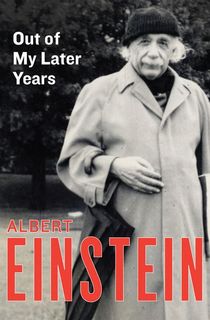 Out of My Later Years
This illuminating collection, which includes a number of essays also found in The Albert Einstein Collection, is arranged by subject matter, from the reflective "Convictions and Beliefs" to the politically-minded "Public Affairs" and the discipline-focused section "Science". Together, Out of My Later Years provides a clear and handy survey of Einstein's point of view, revealing a brilliant thinker fully engaged with science, philosophy, and worldwide humanitarian issues.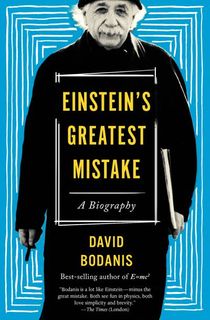 Einstein's Greatest Mistake
In this celebrated biography, best-selling author David Bodanis sets out in search of the man behind the genius, discovering a world-renowned scientist who nevertheless found himself ostracized by the scientific community in his later years. Named a Science Book of the Year by the Sunday Times, Einstein's Greatest Mistake delivers a crisp and engaging read on "what we owe Einstein today—and how much more he might have achieved if not for his all-too-human flaws." (Bookreporter)
Related: 10 Back-to-School Books That Will Inspire Readers of All Ages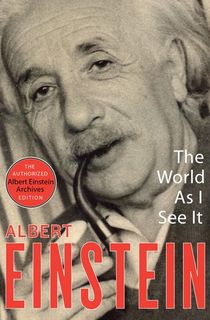 The World As I See It
This standalone book from the above box set reveals Einstein's ever-evolving views on politics and culture. Collecting 67 works written before 1935, works that range in scale from speeches and letters to thoroughly reasoned essays, The World As I See It serves as a spirited portrayal of Einstein as a citizen of the world wrestling with an ever-changing social and political landscape.
Related: FBI Surveillance: Why the Bureau Investigated Famous Writers
Einstein: His Life and Universe
Walter Isaacson is no stranger to the life and times of revolutionary thinkers, having penned masterful biographies of Benjamin Franklin, Steve Jobs, and Leonardo da Vinci. In this New York Times bestselling biography, Isaacson trains his lens on Einstein. Drawn from a previously sealed cache of Einstein's personal letters, Einstein presents an in-depth chronicle of its subject: his scientific breakthroughs, his troubled personal relationships, his escape from Nazi Germany and emigration to America, and his final years in Princeton, New Jersey. Throughout, Isaacson argues that the key to Einstein's achievements sprang from his curiosity and willingness to question—traits that he views as essential in our modern age.
Related: 13 Female Scientists Who Shaped Our Understanding of the World
On a Beam of Light: A Story of Albert Einstein
Here's a delightful children's book for the little genius in your life. Author Jennifer Berne invites readers of all ages on a wondrous journey through Einstein's universe. Elegantly written by Berne and beautifully illustrated by Vladimir Radunsky, On a Beam of Light celebrates difference, champions creativity, and encourages its reader to keep learning and laughing throughout life. The book also serves as an impressive introduction for young readers to Einstein's life story and scientific achievements.
Related: Kit Williams' Masquerade, the Children's Treasure Hunt Book That Captivated England
Subtle is the Lord: The Science and the Life of Albert Einstein
Prominent physicist and historian Abraham Pais was a colleague of Einstein's. Here, Pais fuses his scientific expertise with vivid first-hand memories of the years he shared with Einstein to produce an illuminating scientific biography. Rich with personal history and in-depth assessments of Einstein's theories and ideas, Subtle is the Lord delivers "a coherent account of almost everything of scientific significance that Einstein did...Unique and indispensable." (Science)
Einstein: A Biography
This unique biography by biochemist and Der Spiegel journalist Jürgen Neffe was a bestseller when it was first published in Germany in 2005. Eschewing chronology and citing newly discovered letters and journal entries, Neffe structures his Einstein biography by topic. Chapters explore Einstein's childhood, his distressed relationship with his children, his rise in the scientific community, and how the political climate of the era impacted his work. The result is a revealing portrait-in-essays of the famed scientist that captures his triumphs as well as his flaws.
Related: Apollo 11, 50 Years Later: The Space Race That Defined a Decade
Einstein on Politics: His Private Thoughts and Public Stands on Nationalism, Zionism, War, Peace, and the Bomb
Einstein wrote passionately about the turbulent times in which he lived, voicing his opinion on topics that ranged from pacifism and militarism to nationalistic fear mongering and racial equality in America. Here, eminent Einstein scholars David Rowe and Robert Schulmann collect and contextualize Einstein's most powerful political writings. Bristling with energy, Einstein on Politics offers a revealing look at Einstein the activist and political thinker, tracing his views from WWI through the rising tide of European fascism and WWII and into the nuclear arms race of the Cold War.
E=mc2: A Biography of the World's Most Famous Equation
E=mc2. It's the breakthrough equation that changed our understanding of space and time—but, uh, what exactly does it mean? David Bodanis takes up the lofty challenge of crafting a "biography" of Einstein's revolutionary 1905 formula. With wit and clarity, the author transforms a scientific concept into a riveting scholarly narrative, charting the discoveries of the past that led to Einstein's breakthrough and revealing how Einstein's equation impacts our daily lives—from carbon dating to the atomic bomb.
Opening quote from Albert Einstein's paper "Physics and Reality" published in the March 1936 issue of Journal of the Franklin Institute
Featured photo: Wikimedia Commons