Buckingham Palace has announced that Queen Elizabeth II died on September 8, 2022. At 96 years old, she was the longest-reigning British monarch, and the second-longest known reigning sovereign monarch in world history. Her historic rule oversaw many changes in the UK, and indeed, the world order.
Born in 1926, Elizabeth became heir presumptive in 1936, when her uncle abdicated and her father King George VI acceded to the throne. She began to undertake public duties when she was a teenager during World War II, during which she trained as a driver and mechanic in the Auxiliary Territorial Service, a women's branch of the British Army. After the war, Elizabeth married Prince Philip in 1947, with whom she had four children; their marriage lasted 73 years, until his death in April 2021.
Upon the death of her father in 1952, Elizabeth became queen at 25 years old. Hers was the first British coronation to be fully televised. As queen and head of the Commonwealth, she presided over major political changes, including the Irish Troubles, the decolonization of Africa, the newly declared independence of some of her realms, and the UK's withdrawal from the European Union.
Elizabeth's platinum jubilee was celebrated in February 2022 to commemorate the 70th year since she had acceded to the throne. It was observed with a long weekend in the UK, special stamps and coins issued throughout the Commonwealth, and beacons lit in every Commonwealth capital for the first time. She stated that the jubilee "affords me a time to reflect on the goodwill shown to me by people of all nationalities, faiths and ages in this country and around the world over these years."
Public opinion of Elizabeth remained positive throughout her lifetime, and her death is sure to be mourned deeply throughout the world.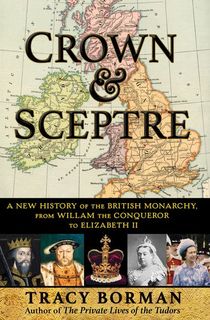 Crown & Sceptre
An in-depth look at the British monarchy that's "a superb synthesis of historical analysis, politics, and top-notch royal gossip" (Kirkus Reviews).