Famed journalist Harold Evans passed away on Wednesday in New York City. Known for his high-caliber, deep-digging journalism, Evans left an impactful legacy.
For 14 years, Evans worked as the editor of The Sunday Times in London. There, he raised the profile and the standards of investigative journalism. Evans published groundbreaking reporting on stories about Thalidomide, a morning sickness medicine that caused birth defects, and Kim Philby, a Soviet double agent that operated in Britain. Never shying away from a story, Harold Evans supported the free press against libel and national security restrictions and stood up for editorial independence.
Related: Recharge with 10 Books About Inspirational People
After leaving The Sunday Times for Times of London, Evans became involved in a drawn-out and public conflict with new owner Rupert Murdoch and was forced out a year later. He reflected on this experience in his bestselling memoir Good Times, Bad Times.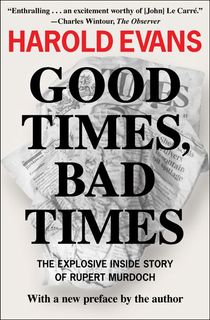 Good Times, Bad Times
"A renowned journalist's 'vivid' account of his battle with Murdoch after the global media baron bought the Times of London" (Chicago Tribune).
Evans rebounded quickly and decided to come to the United States. In New York City, Evans became the president and publisher of Random House and shifted the mindset that had long guided the publishing industry. Evans brought energy and new ideas to Random House, shaking up their way of doing things and widening their publications to areas like photography, business, and current events.
He was responsible for publishing many well-known titles like Primary Colors, General Colin Powell's My American Journey, and Dick Morris's Behind the Oval Office, which shed light behind the scenes of politics.
Across journalism and publishing, Harold Evans brought meaningful stories to his audiences. Evans was held in high-regard for his ingenuity and the impact his work had, including by the Queen of England, who knighted him Sir Harold Evans in 2004.
Working as an editor at large for Reuters at the time of his passing, Evans' ability to tell stories that matter will be widely missed.
Featured photo: Wikimedia Commons