Ever since Elvis Presley hit the music scene in the 1950s, the legend made waves every step of his career—and even after his death. An enduring fixture of American culture, the contributions Elvis made to music and film continue to shape media even today. Baz Luhrmann's biographical musical drama, Elvis, brought this cultural icon to the forefront once more when it hit theaters this June. But there's only so much material that can be explored in two and a half hours of screen time.
Whether you're a long-time, hardcore Elvis fan or a newcomer excited to plunge into the history of a 20th century icon, there's a wealth of knowledge about this revolutionary singer just waiting to be tapped into. Here are 7 illuminating books about the history of Elvis Presley, the King of Rock and Roll.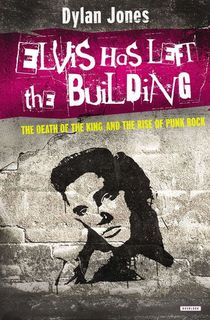 Elvis Has Left the Building
When Elvis Presley first hit the scene with rock and roll music, he caused an uproar. In the 1970s, the rise of punk music caused a similar commotion. Yet, despite the shock both caused upon their arrival, punk music seemed to aim to tear down everything Elvis had build.
Related: Punk Rock and Politics Collide in 1970s East Germany
When Elvis died on August 16th, 1977, he left behind a larger-than-life legacy—and became a martyr of the hard and fast celebrity lifestyle. This book takes readers back to the days when The King reigned and punk reared its head. In an exploration of culture wars, hysteria, and celebrity devotion, this book provides keen commentary on the life and death of Elvis Presley in the context of changing times, pinpointing how one artist altered the whole course of music and culture.
Baby, Let's Play House: Elvis Presley and the Women Who Loved Him
Author Alanna Nash—an Elvis expert, journalist, and Country Music Association Media Achievement Award winner—delivers a fascinating study on this music icon through the lens of his complicated relationships with women. Throughout his life, Elvis had significant connections to many women, including celebrities like Ann-Margret, Linda Thompson, Mary Ann Mobley, Cher, Raquel Welch, Barbara Eden, and Cybill Shepherd. Drawing on dozens of exclusive interviews and providing a wealth of never-before-seen pictures, this book is an essential read for all fans of Elvis.
Last Train to Memphis: The Rise of Elvis Presley
The definitive biography of Elvis Presley, this book reflects upon him with plenty of humor and affection. Rather than leaning into his status as a music icon, this book focuses instead on Elvis the man. Pulling not only from a decade of research, but from hundreds of interviews, author Peter Guralnick illustrates the singer's personal evolution.
Centered around the first 24 years of Elvis's life, this text begins with his childhood before taking readers through the groundbreaking recordings at Sun Records to the early RCA hits. Soaring through the absolute heights of Elvis's early career, when it seemed like the man couldn't fail, the book closes on the somber period of 1958, when he was drafted into the army shortly before the death of his mother.
Return Of The King
By the 60s, Elvis's career had wavered. Once he returned from the army, his reintegration into stardom had started on a high note—his films G.I. Blues and Blue Hawaii were popular additions to his filmography. But the films that followed were too formulaic, with soundtracks that were lacking in excitement. While the profits weren't rolling in as fast as they had once been, 1967 spelled out a new contract between Elvis and "Colonel" Tom Parker that gave the singer half of all the profits and royalties.
Related: 12 Immersive Biographies to Lose Yourself In
With his singles not even hitting the top 20 on the charts, it seemed like Elvis's peak was over. But in 1968, Elvis clawed his way back to the top with a TV comeback special in December. Artistically refreshed, he had slimmed down and styled himself in an iconic black leather suit, doling out rock hits with a country-soul influence. Elvis had returned, and he seemed to love it. Over the next decade, some of his most beloved hits were born, such as "Suspicious Minds" and "In The Ghetto."
The Colonel
Colonel Tom Parker was the manager of Elvis Presley, cultivating one of the most enduring legends of popular music. However, this man—often described as greedy and duplicitous—is shrouded in mystery. As a matter of fact, even his name is a fabrication. In reality, he was a Dutch immigrant named Andreas van Kujik who purchased his title as colonel from a man in Louisiana. And this book aims to bring to light just how far his lying and swindling went.
Related: 7 Powerful Songs From History That Capture the Zeitgeist
Author Alanna Nash—who knew Parker towards the end of his life—reveals how the many secrets he kept buried played a role in the career and life of Elvis. While from an outside perspective the path of Elvis's career may seem strange, it all becomes clear the more one learns about Parker. A shady criminal past had him steering Elvis clear of European tours. His early days as a carnival barker had him familiar with the off-the-beaten-path towns he booked his successful star in. And his gambling addiction trapped Elvis in Las Vegas, playing show after show until his untimely demise.
Elvis Meets Nixon
In one of the stranger true moments in history, the year 1970 saw Elvis Presley pay a visit to the White House to request a meeting with President Nixon. What was the subject of this sudden meeting? Elvis wanted to be named an honorary Federal Agent. In a twist of dark irony, Elvis—prescribed, at the time of his death, more than 14 drugs—wanted to aid Nixon on his "war on drugs". This book explores the brief meeting of two men desperate to win the favor of America.
Related: 10 Cultural History Books That Explore Our Changing World
The Strange Medical Saga of Elvis Presley
When the news of Elvis Presley's death at just 42 years of age hit the newspapers, America was sent reeling in shock. But not even 24 hours after his passing, controversies arose over the cause. Was it, as the county coroner stated, truly a heart attack, or was it the result of a drug overdose?
Elvis's doctor, Dr. George C. Nichopolous, was later put on trial for manslaughter. Though the doctor was acquitted, that left questions about just why Elvis was in need of so much medical intervention. Had Elvis experienced health issues throughout his life that contributed to his death? Why was he always in pain? This book, written by the man who served as a major expert defense witness for Dr. Nichopolous, reveals the truth.