In these uncertain times, it's more vital than ever that we take the initiative to read and consider the stories of those who have already survived one of history's darkest periods. These deeply unsettling yet informative memoirs lead readers through the trauma and uncertainty that plagued Holocaust survivors, as well as their strength and resolve to record their experiences for future generations. Here are six monumental books about people who emerged from the Holocaust determined to share their stories.
Related: 8 Moving Historical Fiction Novels About the Holocaust
The Nazi Officer's Wife: How One Jewish Woman Survived The Holocaust
Edith Hahn was a young Jewish woman with a bright future before the Holocaust began. She was a brilliant law student with a supportive family and loving boyfriend, and she was thriving in the culturally vibrant city of Vienna. But when the Nazis took power, it all fell to pieces, and after surviving religious persecution, the loss of her lover's commitment, near starvation, and a brutal labor camp, Hahn's survival plan came to be camouflage.
Related: 29 Eye-Opening Books About the Holocaust
She had to disguise herself as a Nazi supporter by marrying Werner Vetter, a Nazi party member willing to serve as her smoke screen out of love for her. This memoir is painfully suspenseful, as every waking moment of Hahn's life carried the threat of being found out by the draconian Nazi regime. At one point she even refused painkillers during the birth of her child, fearing she would accidentally reveal her true lineage to the hospital staff while in an intoxicated state.
The Pianist
This memoir is a tribute to the power of pure chance in altering a person's destiny. Polish-Jewish pianist Władysław Szpilman narrowly avoided the fate of his family, who were sent to a death camp in Treblinka, only because a policeman admired his musical talent and helped him dodge deportation. Szpilman continued to struggle and survive alone in the war-ravaged Warsaw, personally witnessing events such as the Warsaw Ghetto Uprising and the city's ongoing resistance against their oppressors. He also hid out in the home of a sympathetic German officer, Wilm Hosenfield, earning his keep by playing the piano to entertain his protector.
Related: Jewish Resistance Fighters Pulled Off the Largest Prison Escape of WWII
The film adaptation of the memoir came out in 2002 and was the winner of three Academy Awards. Adrien Brody would receive the Oscar for Best Actor for portraying Szpilman, an artistic achievement that matched that of the gifted real-life pianist himself.
A Bookshop in Berlin
Born in Poland, Françoise Frenkel had a dream: to run a bookshop in Berlin that would serve not only as a shrine to French-language literature but also as a gathering place for the great thinkers and artists of the day. She achieved that dream, and her Berlin bookshop was an outstanding success, rivalling its direct counterpart Shakespeare and Company in Paris.
But when war broke out in Germany, Frenkel, a Jewish woman well-known for her progressive ideas that directly challenged rigid Nazi ideals, had to leave her beloved shop behind and go on the run. Constantly on the move, she evaded capture, but witnessed unforgettable horrors. This memoir was originally published in 1945 but received no attention at the time. It was rediscovered in an attic in Southern France and republished in 2010. The bookish and scholarly Frenkel surely would have been pleased by its revival, as the ultimate tribute to her memory and literary spirit.
Rena's Promise
Rena Kornreich made a vow to her mother that she would care for her sister Danka when the family was forced to separate. And keep that promise she did, when she and Danka were reunited in the most notorious concentration camp in history. The love between the two sisters kept them alive under the camp's monstrous conditions, and Kornreich personally witnessed similar iron-like bonds between other women at the camp. The sisters survived three years and 41 days at Auschwitz before they were liberated, but the pain would last them both a lifetime.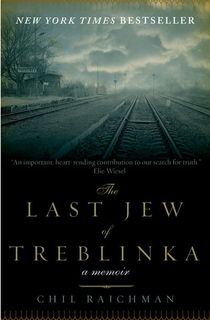 The Last Jew of Treblinka
This is the only memoir to have survived the Treblinka death camp. That alone makes this book an indispensable historical record as well as an unbelievable shock to one's eyes. Chil Rajchman shares deeply unsettling experiences of Nazi crimes against humanity and personal tragedies, such as finding his younger sister's dress in the woods, or how he was forcefully recruited to extract gold teeth from victims' remains.
Rajchman also served as a camp barber against his will, ordered to shave the heads of fellow prisoners in an effort to dehumanize them, prevent the spread of lice within the camp, and prepare them for execution. This book was originally published in Rajchman's native Yiddish but is now available in English. In any language, this is an intimate and achingly melancholic narrative.
All But My Life
Like The Nazi Officer's Wife, here is another story of a woman whose sense of self was nearly completely surrendered to the Nazis. When the Nazis invaded Bielitz, Poland, Gerda Weissmann and her family descended to their own basement to hide, but they were eventually caught and separated. Within the walls of a German labor camp, Klein's identity as a daughter, sister, friend, and free-thinking young woman was eroded by fear, loss, and hardship.
Related: Explore the 20th Century Through Martin Gilbert's Best Books
Klein's story is one of spiritual and psychological survival as well as physical. When she was liberated by American troops, it was without most of the family and friends who'd been her anchor. Alive but adrift, Klein alone had to dig deep into what remained of her past life and find a way to go on.