A list of the 10 greatest books on military history is in many ways an impossible task: There are too many to list, let alone whittle down. However, these are ten books that have impacted me personally, and evolved my thinking and writing on the subject of war. They stuck with me by doing what all good books do: They forced me to think, question, and change my opinions.
War Junkie: One Man's Addiction to the Worst Places on Earth
Being a war correspondent myself in what seems something of a previous life, I couldn't help but pick up a copy of this book where I found similar experiences to my own. I felt a real affinity with Steele and if anything, his book helped me deal with my own demons when coming off the highs and lows of the war reporter's rollercoaster ride. If you ever wonder why we go, and why we stay in some of the worst places imaginable, this book lays bare the mindset … and how it's not entirely healthy in the long run. War Junkie is a gripping and revelatory read.
Related: Triumphs and Tribulations: 7 Books About Military Intelligence
The Phantom Major: The Story of David Stirling and the SAS Regiment
Written in 1958, this is one of the first books that ever got me interested in the SAS and probably still one of the best in terms of access and writing style. The Phantom Major tells the complicated story of the how and the why the SAS was formed, using the lens of its unique and legendary leader, David Stirling, and when the man himself was still alive and could be talked to. Virginia Cowles was a fantastic journalist and storyteller; the fact this book is still in print and enjoyed by many is testimony to its sheer authenticity and timeless appeal.
Battle Scars: A Story of War and All That Follows
This just-published book is important in that it can and will save lives. In a time when soldiers are ending their lives through suicide, because they feel alone in their struggles with PTSD (post-traumatic stress disorder), this book reveals how even those we as a society tend to term as "super soldiers"—like Britain's Special Air Service—can and do go through that same personal hell. In breaking down the facade of being the untouchables, Fox tells the world of his struggles with his own inner demons—PTSD first and foremost—and his war with the stigma that still unbelievably exists when it comes to admitting to battle stress and its long term effects. Battle Scars is brutally honest, brave, and revelatory.
Related: 7 Books to Read After Watching Thank You for Your Service
Soldier Five: The Real Truth About The Bravo Two Zero Mission
Mike Cockburn not only gives a highly readable account of the First Gulf War's infamous Bravo Two Zero Mission, he also risked his own reputation in doing so as the British establishment tried desperately to stop the publication of this book, although I can't for the life of me imagine why. It's a real, genuine one-man-against-the-system story, one that shows that governments will still seek to destroy those who try to go against the party line in the interests of the truth. Soldier Five, a narrative written by one of the eight men on mission, is required reading.
The Naked Island
Russel Braddon created something unique in my experience. Writing his book was a catharsis to his harrowing experience as a prisoner of the Japanese during WWII, and especially in the way he used humor as a tool to tell that story. Braddon uses his dry Aussie sense of humor to portray his experiences in an utterly human way and it proves somehow remarkably refreshing, not to mention enlightening. It's a book that you will wish was four times longer—and one that will stay with you forever.
Kill Anything That Moves: The Real American War in Vietnam
The title alone makes it a must-read. Anyone with an interest in military history has heard of the various instances during the Vietnam War where GIs allegedly took out their frustration on the Vietnamese people. We are told that these moments—the massacre at My Lai being the most infamous—were aberrations. Turse details the true scale of the instances of rape, murder, and other war crimes that have lain hidden below the surface of that war for so long and were committed by both sides. Kill Anything That Moves is far from a comfortable read, but an important one.
Related: 9 Fascinating Vietnam War Books
The Chief: Douglas Haig and the British Army
Gary Sheffield does an outstanding job of making the remote figure of General Haig—a man revered and hated equally, depending on with whom you consult—into a human being. You come away with a greater understanding of the man and his generalship. Myths are destroyed, his failings and his triumphs are lent new light and you develop a whole different outlook on the man's reputation, an outlook now based on cold hard fact and reasoned analysis, rather than an episode of Blackadder. The Chief gets to the truth behind the comedy.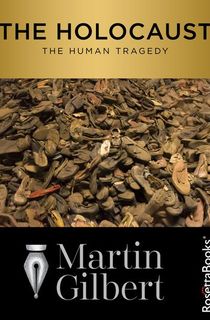 The Holocaust
Gilbert's book does a fantastic job of turning numbers—millions—into people. Reading about the Holocaust, it is all too easy to get lost in statistical data of numbers that are so unimaginable that they cease to represent individuals. By the end of his book you almost feel that Martin has given a name, a face, and a story to every single person murdered during that darkest of times. After reading this book you will never be blinded by the scale of Holocaust; you will see the individuals who went through it; most never to survive.
The Kaiser's Holocaust: Germany's Forgotten Genocide and the Colonial Roots of Nazism
In reading about the Holocaust, if you find yourself asking the question how could this ever have happened, then you will find some of the answers in this remarkable book. It delves into the pseudo-scientific roots concerning the now defunct theory of eugenics, and how it translated into the deaths of thousands of African tribesmen at the hands of the Second Reich. You will come away with an understanding of how and why people have been able to justify mass murder to themselves throughout history. The Kaiser's Holocaust is shocking and utterly revelatory.
Old Soldiers Never Die
This is a "must read" personal narrative from the First World War. If one book can open the mind brilliantly to what trench life and industrial warfare felt like, then this is it. It's filled with heart and sorrow, but most of all it paints a picture that a lot of us find hard to fathom—the sights, the smells, and the raw fear of weeks spent living on one's nerves, when making simple decisions about turning left or right down any particular trench on any particular day could mean the difference between life and death. Old Soldiers Never Die reveals the true face of WWI.
Related: 9 Best World War I Books
About the Author
Damien Lewis is a bestselling author whose books have been translated into over forty languages worldwide. For decades he worked as a war and conflict reporter for the world's major broadcasters, reporting from Africa, South America, the Middle and Far East, and winning numerous awards. Lewis's books include the #1 international bestseller Zero Six Bravo; the World War II classics Hunting the Nazi Bomb, The Ministry of Ungentlemanly Warfare, and The Nazi Hunters; and the war dog books The Dog Who Could Fly and A Dog Called Hope. A dozen of his books have been made, or are being made, into movies or television drama series and several have been adapted as plays for the stage. Lewis has raised tens of thousands of dollars for charitable concerns connected to his writings.