Although more than 50 years have passed since Marilyn Monroe died from a barbiturate overdose in her Los Angeles home, she's still a household name. When people think about who Marilyn Monroe was, they might remember her as merely a sex symbol or blonde bombshell.
But before Marilyn Monroe became any of these things, she was Norma Jeane Mortenson, a brunette who grew up in foster care before marrying her first husband at the age of 16. She was a decidedly unglamorous factory worker during World War II while her husband was deployed. Just a few years later, she would have her big break, becoming the woman we know as Marilyn Monroe.
Monroe's colorful life and lucrative movie career created the image of her that we think of today. But what was Marilyn Monroe really like? Did she really die from an overdose, or was there a conspiracy involved in the circumstances surrounding her death? We've created a list of the most revealing Marilyn Monroe books that may help tell the true story of the pop culture icon.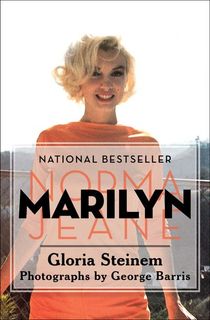 Marilyn
As written by one of the leaders of the feminist movement in the 1960s, Steinem's presentation of Monroe embraces her status as both a sex symbol and as an icon for female empowerment. The book includes photos taken by George Barris–the same man who shot her infamous subway grate photo. He and Monroe had talked about creating a book that combined his photos with her narrative, but never got the chance to do so.
Related: 15 Biographies of Remarkable Women That You Need to Read
Steinem structured the book so that every chapter could be read as its own separate essay. The book explores Monroe's rarely mentioned maternal nature–she felt a deep connection to the foster care children she often visited in her down time. Steinem also presents the dark implications of Monroe's screen career. Monroe was a woman constantly cheated out of her money, and people often mistook her as the same person to her characters. You'll feel a pang of sadness for Monroe after you read the book, but you'll also see how her legacy empowered women to embrace their sexualities.
The Girl
Morgan's biography focuses on the time period that is considered Monroe's best years in film. Monroe was a star before The Seven Year Itch, but she truly became an icon after her subway grate photo was plastered across magazines and newspapers. During this time, Monroe capitalized on her growing success as a sex symbol by playing the parts that she was good at–even if that frequently meant being perceived as equivalent to her characters.
During this time, Monroe also created her own production company and legally changed her name from Norma Jeane to Marilyn Monroe. For those who want to focus on Marilyn Monroe as a screen legend and a feminist icon, this book will remind you of who she was in her prime.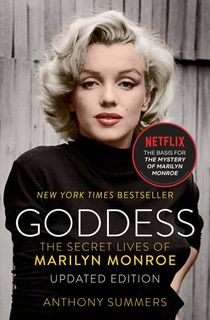 Goddess
In Goddess, Summers explores every "what if" about Marilyn Monroe's death. For many, the details of her 1962 death just don't add up. Every possibility from a possible Mafia hit to Monroe as the victim of a devious plot brought on by two of the Kennedy brothers is laid out, and you'll have more questions than answers by the end of the book.
Related: The Secret Lives of Marilyn Monroe
Summers interviewed more than 600 people for the book. One person alleged that she and her husband learned that Monroe had died hours before the police were actually called, while others supported the claim that the CIA or FBI may have been involved. This book is for fans of conspiracy theories and scandalous rumors that span across industries.
The Secret Life of Marilyn Monroe
In order to understand who Marilyn Monroe ultimately became, it is important to understand where she came from. Taraborrelli first gives the background of Monroe's birth mother, her foster mother, and her grandmother before there is a single chapter focused on Monroe herself. Realizing just how stacked the odds were against Monroe makes her climb to success all the more admirable.
This biography also explores Monroe's rarely discussed bouts with mental illness. Mental illness ran in her family, even becoming severe enough to cause Marilyn's mother to abandon her into foster care. The details of her long-standing struggles with her mental health bring the circumstances of her death into focus.
Marilyn Monroe: Metamorphosis
This coffee table book is a valuable visual resource for true fans of Marilyn's life. Wills, a curator, used his skill to create a photo-based book that, despite a lack of words, shows the full narrative of the star's life.The images from Monroe's early life show a young girl who commands the attention of a camera, making it clear that she was destined to be a star from the start. Each photo series is introduced by quotes about or from Marilyn.
Related: Ruth Gruber: The Making of a Trailblazing Female Correspondent
Marilyn Monroe: The Biography
The chapters of the book are organized by the months and years in Monroe's life, from her birth to her death—emphasizing how every moment was influential in some way. Spoto includes Monroe's own personal letters and diary entries to make the narrative personal and straight from her own thoughts. Spoto went through over 35,000 pages from files on her life and death, so to say that his research is thorough is putting it lightly.
Marilyn: A Biography
Mailer wrote arguably the most famous biography about Monroe—famous, mainly, because of how salacious it is. Mailer asserts that Monroe was killed by government agents, a claim he later said was a tactic to sell more books. Considering that Marilyn: A Biography outsold all his other books except The Naked and the Dead, this move worked. You'll have to be certain to take everything Miller writes with a huge grain of salt, but this biography is worth the read for Marilyn obsessives who look to understand how her life became a symbol that was far beyond her own reach. Mailer is a prime example of the type of man who swallowed up Marilyn and spat her out for his own gain.
Featured photo: Wikimedia Commons
KEEP SCROLLING FOR MORE HISTORY STORIES