Note: This giveaway is now closed.
The name Marie Curie is likely familiar to you. But what about Elsie Widdowson? Or Gertrude Elion? Although shining examples of iconic work by women in the sciences have risen to the top, there are hundreds more potential role models whose work has been forgotten or set aside. Widdowson and Elion are just two of the fascinating scientists whose lives are explored in the new book 10 Women Who Changed Science and the World.
If you've been looking for a new dose of inspiration, look no further than this book and these women. We're teaming up with Diversion Books to give away five copies of 10 Women Who Changed Science and the World. Each winner will discover the brilliant lives of ten women who persevered against the odds and broke through preconceived notions to discover new facts and theories.
Enter your email below for your chance to win!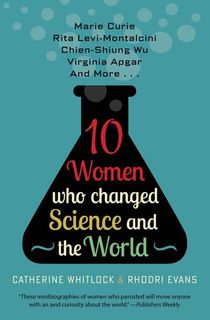 10 Women Who Changed Science and the World
From two-time Nobel Prize winner Marie Curie to physicist Chien-Shiung Wu and obstetrical anesthesiologist Virginia Apgar, M.D., this book celebrates the lives and hard-earned accomplishments of ten women from around the world who forever changed astronomy, physics, chemistry, medicine, and biology.
"These minibiographies of women who persisted will move anyone with an avid curiosity about the world." –Publishers Weekly
It has been more than a century since the Nobel Prize in science was first awarded to a woman. And after Marie Curie's 1911 accolade, seventeen other women―including two in 2018―have been so honored (Curie won the award a second time). This book explores the lives of Curie, three other female Nobel Prize winners, and six other women who broke through gender discrimination in a variety of fields to help shape our world with their extraordinary discoveries and inventions.
What drove these remarkable women to cure previously incurable diseases, disprove existing theories, or identify new sources of energy? Despite living during periods when the contribution of women was often disregarded, if not ignored, these resilient women persevered with their research. By daring to ask "How?" and "Why?" and laboring against the odds, each of these women, in her own way, made the world a better place.
For full details, see official rules.
Note: The sweepstakes is open to all legal residents of the 50 United States and Washington, DC who are 18 years and older by June 21, 2019.
Featured photo: Wikimedia Commons