Patrick Jake "P. J." O'Rourke died on February 15, 2022, at his home in Sharon, New Hampshire from complications of lung cancer. He was 74 years old. A conservative libertarian, O'Rourke was respected by people on both sides of the political spectrum for his willingness to lampoon Democrats and Republicans alike.
O'Rourke was born in Toledo, Ohio on November 14, 1947. In 1969, he graduated from Miami University, "the one in Ohio, not the one where you can major in water skiing," as he once noted. The next year, he graduated from Johns Hopkins University with a master's degree in English.
In 1972, O'Rourke moved to New York City and soon started writing for the then-up-and-coming humor magazine National Lampoon. O'Rourke served as the magazine's editor-in-chief from 1978 to 1980. He also received a writing credit for National Lampoon's Lemmings, the 1973 stage show spin-off that launched the careers of John Belushi and Chevy Chase.
Beginning in 1981, O'Rourke became a freelance writer and began the most prolific phase of his career. In addition to writing pieces for The Atlantic and The American Spectator, he also became foreign affairs desk chief at Rolling Stone. After co-writing two books, he published his first solo book in 1983. Modern Manners: An Etiquette Book for Rude People offers practical advice with a humorous twist.
O'Rourke's clever takes on American society and politics won him a wide range of admirers across the political divide. In addition to his over 20 books and other writings, he was also a frequent guest on talk shows like Real Time With Bill Maher, The Daily Show, and The Tonight Show. In the mid-90s, he was the conservative voice in a point-counterpoint segment on 60 Minutes. He was also a frequent guest on NPR's quiz show Wait Wait...Don't Tell Me!
More recently, O'Rourke made headlines when he endorsed Hillary Clinton for president during the 2016 election. He described himself as being a member of the "unorganized resistance" against Donald Trump. He reaffirmed his stance in 2020 during an interview with The New Statesman, calling Trump "unstable" and "dangerous." His book on the 2016 election, How the Hell Did This Happen?, garnered positive reviews from critics, conservative and liberal alike.
O'Rourke leaves behind his wife, Tina O'Rourke, and three children. Wait Wait...Don't Tell Me! host Peter Sagal remembered him on Twitter: "His work was wonderful. His heart was even better. I will miss him terribly."
Check out some of O'Rourke's best-loved books below.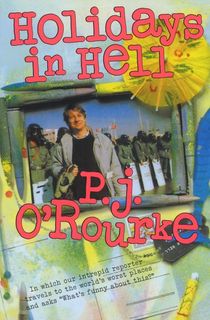 Holidays in Hell
As a foreign correspondent for Rolling Stone, O'Rourke traveled to some of the most fraught places on the planet. In Holidays in Hell, he finds humor in the adventures he ends up on in places like South Korea, the Gaza Strip, and Communist Poland.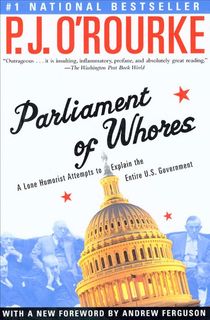 Parliament of Whores
O'Rourke's signature work and his first number-one New York Times bestseller, Parliament of Whores is his attempt to explain the US government. His send-up of the absurdities of the American political system remains pointedly relevant over 30 years later.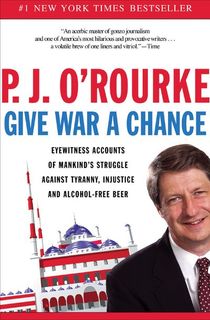 Give War a Chance
O'Rourke's second New York Times bestseller is a series of dispatches that begins with the fall of the Soviet Union and ends at the conclusion of the Gulf War. While the majority of the book tackles subjects like Saddam Hussein and the complexities of modern warfare, O'Rourke, as always, uses his observations to reflect on American society.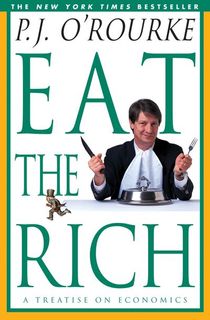 Eat the Rich
In attempting to answer the question of why some countries prosper while others struggle, O'Rourke takes readers on a world tour of economic systems and manages to make money talk entertaining along the way.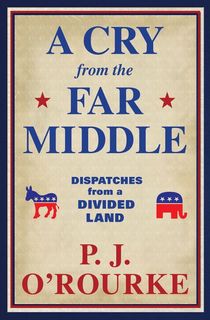 A Cry from the Far Middle
O'Rourke's final book is another series of observations on American society in what feels like the most divided time in US history. Through a series of essays on the state of the country, O'Rourke comes to a bold conclusion: everyone needs to chill out.