In the field of oral history, a historian listens to the subject tell their story in their own words, either via recordings or live interviews. Since they draw upon the experiences of people who experienced historical events firsthand, these types of books tend to offer more colorful, human perspectives. Oral histories are transcendent: they can place readers in the shoes of people who came before them, of people who witnessed events they can only read about. For those whose stories have been misinterpreted, confused, or falsified, oral histories represent a way to reclaim their own narratives.
Providing glimpses into the past from firsthand perspectives, oral histories are some of the most noble historical pursuits. The following nine oral history books offer unique glimpses into their subjects, and are valuable additions to any history buff's shelves.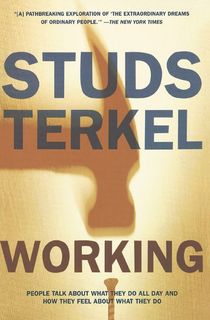 Working
Working was compiled by the renowned oral historian Studs Terkel, and published in
1974. Terkel, himself the son of working-class Jewish immigrants, records interviews
with a variety of working Americans, including: Renault Robinson, a Black law enforcement officer who hoped to improve police treatment of people of color from the inside; Roberta
Victor, a sex worker who discussed past abuse and solidarity between others in her
trade; and Roberto Acuna, a farm worker struggling under poor working conditions and
greedy higher-ups. Terkel even takes an inside look at some ostensibly more glamorous
professions, interviewing actor Rip Torn and baseball player Steve Hamilton. For the
modern reader, Studs Terkel's Working is a useful point of comparison, considering both
how much and how little the concepts of labor and the workplace have changed in America.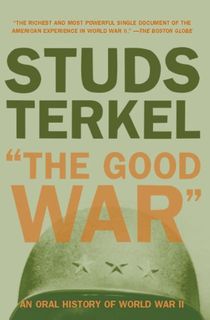 "The Good War"
Another account by oral historian Studs Terkel, "The Good War" takes a look at a less mundane subject: the effects of the Second World War on the American people. The book
tells the stories of frontline soldiers, like a crew member of the B-29 bomber that
dropped the Fat Man atomic bomb on Nagasaki. Lowell Steward, a member of the
Tuskegee Airmen and one of the first Black pilots in the US Air Force, also contributes
to the narrative. However, it doesn't neglect those who felt the effects of the war at
home. Terkel also recounts the experiences of William Hohri, a Japanese-American
reparations activist whose family was incarcerated at an internment camp in California.
He even interviews Maxene Andrews of the Andrews Sisters singing group, who
discusses the effects of the draft on American culture through her popular song "Boogie
Woogie Bugle Boy."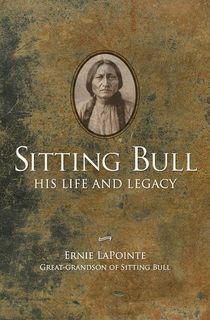 Sitting Bull
Sitting Bull, born Tȟatȟáŋka Íyotake, was a widely influential leader of the Lakota
resistance to colonization. When members of the US Indian Agency feared he would
join the Ghost Dance, a spiritual and political movement that prophesied an end to
white settlement, they shot him dead during an arrest attempt. Ernie LaPointe, Sitting Bull's
great-grandson, remembers his mother cautioning him to keep his ancestry a secret.
However, LaPointe later decided that Sitting Bull's life story was best told by his own
people. LaPointe discusses his great-grandfather as his family knew him, correcting misconceptions about him and exploring his own connection to his family and
culture.
All God's Dangers
In All God's Dangers, Theodore Rosengarten collects the little-known life stories of Nate
Shaw, a Black farmer-turned-activist who achieved financial success in the time of Jim
Crow. The son of a man who was born enslaved, Shaw set out to make a living on his
own. Beginning as a sharecropper, he worked his way up to tenant farmer. In 1931, he
joined the Sharecroppers Union, helping them recruit new members. When a sheriff
tried to foreclose on his friend's home, Shaw came to his defense. The confrontation
resulted in a shootout and Shaw's arrest, but he refused to name fellow union members
in exchange for a lighter sentence. All God's Dangers is the story of a life of courage,
one that might have gone forgotten if it weren't for Rosengarten's interviews with Shaw.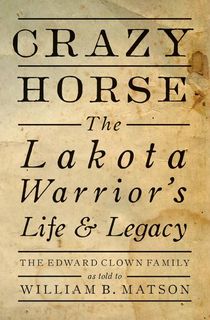 Crazy Horse
Crazy Horse, born Tȟašúŋke Witkó, was another Lakota warrior who most notably led his
people in defending the Great Plains from white settlers during the Great
Sioux War of 1876. Many accounts of his life have been filtered through a colonialist
lens, failing to represent him accurately. In this book, William B. Matson recounts
talks with the Edward Clown family, Crazy Horse's closest living descendants, about
family stories that have been passed down through generations. The family sets out to
correct the inaccuracies in the common historical narrative and provide some insight
into Crazy Horse's own perspective. They explain much needed cultural context,
painting a complete picture of this figure who has too often been mischaracterized by
outsiders.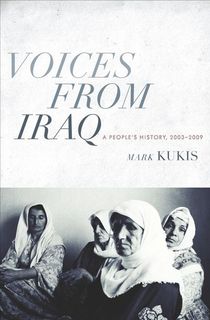 Voices from Iraq
In Voices from Iraq, Mark Kukis constructs a people's history of the war by
speaking to the Iraqi people most affected by it. In his own words, an Iraqi soldier who
survived the first days of the US invasion tells of the terror he felt during an aerial attack.
Baghdad civilians lament the loss of their businesses, homes, and families to
bombardment. Members of the Peace Companies armed group describe the head-on
fight against occupation.
A low estimate by the World Health Organization claims that 104,000 civilians were killed in the Iraq War between 2003 and 2011. Told in the first person, Voices from Iraq corrects the American media narrative that demonized and discriminated against the Iraqi people, demonstrating their humanity and the devastation they suffered during the war.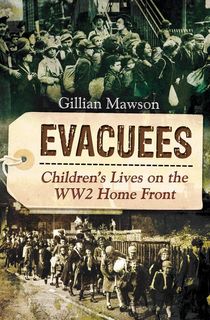 Evacuees
During the first days of the Second World War, over three million people—mostly
children—were evacuated from high-risk zones in British cities and transplanted to
new homes in the countryside. Some moved as far away as Canada or Australia. Many
of them stayed with their host families for multiple years, completely changing the
course of their upbringings and, for some, leaving their old lives largely forgotten.
In Evacuees, Gillian Mawson provides an outlet for more than 100 of these displaced
people to discuss their experiences during Operation Pied Piper. Some relished the
move from poor city apartments to vast country estates. Others resented their new
families and longed for their old lives. Still others reported shocking abuse and neglect
by their host families. Mawson's Evacuees gives this oft-overlooked group of World War
II victims a chance to tell their stories.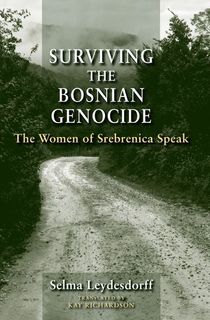 Surviving the Bosnian Genocide
During the Bosnian War of 1992-1995, members of the Bosnian Serb Army undertook an ethnic cleansing of Bosniak Muslims, killing more than 8,000 men and boys in a massacre at Srebrenica while abusing, displacing, and imprisoning women and girls. In Surviving the Bosnian Genocide, Selma Leydesdorff speaks with 60 women who survived the Srebrenica massacre, many of whom still lived in refugee camps when the book was published in 2011. Reminiscing about the peace they enjoyed before the war, the women mourn the family and friends they lost while candidly discussing the oppression and violence they endured. Survivors of the Bosnian genocide still struggle to make their stories heard, so the records they leave in Leydesdorff's book are an important resource.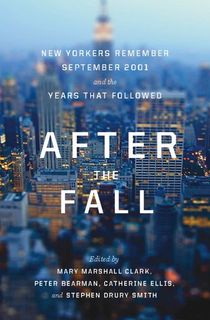 After the Fall
In one way or another, the September 11th attacks on the World Trade Center impacted
everyone in New York. Shortly after the attacks, oral history researchers from Columbia
University spoke to countless New Yorkers, inviting them to share their stories. They
spoke with first responders, historians, teachers, priests, taxi drivers, doctors, artists—New Yorkers from all walks of life who witnessed the events and their aftermath. A collection of 19 personal stories from diverse people who lived or worked in New York, After the Fall demonstrates the myriad ways a large-scale tragedy affects people on an individual level. Although the events of 9/11 are still in recent memory and survivors are in no short supply, this oral history will be an important historical source for future generations.
This post is sponsored by Open Road Media. Thank you for supporting our partners, who make it possible for The Archive to continue publishing the history stories you love.