Victor Navasky passed away on January 23, 2023 from complications of pneumonia. He is remembered as the longtime editor of the biweekly magazine The Nation and the renowned author of several books on political and cultural history.
Victor Saul Navasky was born on July 5, 1932 on the Upper West Side of Manhattan. He graduated from Swarthmore College in 1964, where he received high honors in the social sciences. Upon his graduation, Navasky served in the United States Army from 1954 to 1956. He received his Bachelor of Laws (the precursor to the Juris Doctor degree) from Yale Law School in 1959, and while there, he co-founded and edited a political satire magazine called Monocle.
After a period of time working for The New York Times Magazine, Navasky joined The Nation in 1978 and stayed there for nearly three decades, first as editor, and later as publisher. During the years he presided over The Nation, Navasky cultivated a stylish roster of contributors while growing its circulation. First founded as an abolitionist magazine in 1865, Navasky strengthened The Nation's reputation as an outspoken liberal voice in politics and culture.
Additionally, Navasky was a gifted author and the recipient of a National Book Award for his book Naming Names, considered an authoritative source on the Hollywood blacklist during the years of the Red Scare. He's also known for Kennedy Justice, a finalist for the National Book Award which focuses on Robert F. Kennedy's career as US Attorney General.
In recent years, Navasky was an occasional contributor and publisher emeritus of The Nation. He chaired the Columbia Journalism Review, and presided on the board of several cultural and academic organizations.
Publisher and part-owner of The Nation, Katrina vanden Huevel, was among the first to voice her respects for her colleague of many years and the publication's former editor. "He changed my life and 1000s of others," she tweeted. "Victor was a true believer in the power of independent media—quietly fierce in his convictions, kind and generous to so very many."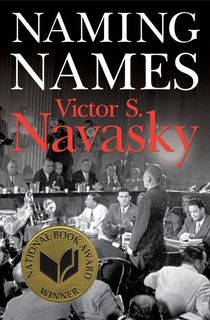 Naming Names
Victor Navasky's most well-known and acclaimed book draws on over 150 interviews to investigate the Hollywood blacklist. Navasky pulls from the people who testified before the House Un-American Activities Committee to reveal why the blacklists were so effective, and examines the tragic and far-reaching consequences of Joseph McCarthy's witch hunts. Kurt Vonnegut praised Navasky as "a lawyer, historian, and psychologist all at once. Naming Names is a miracle of vividly responsible scholarship."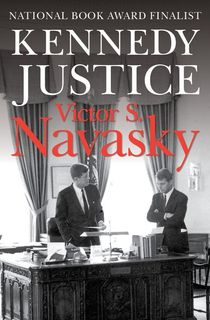 Kennedy Justice
Kennedy Justice brings to light the complicated relationship between power and principle during the Kennedy years. Navasky paints an expert portrait of the young and inexperienced Robert F. Kennedy while he served as the United States Attorney General. He investigates how familial power bolstered Kennedy to his position, yet delivers nods of approval to Kennedy's impassioned fight to root out corruption and protect civil liberties.
The Art of Controversy
Navasky gained years of experience witnessing how influential—and controversial—political cartoons can be. He expertly guides readers through the best political cartoons ever created, including those by famed artists such as David Levine, Honoré Daumier, and Ralph Steadman. Wit, artistry, and Navasky's astounding breadth of knowledge come together to create a definitive guide to how political cartoons have shaped our nation.
A Matter of Opinion
A Matter of Opinion is a dazzling reflection on Navasky's journalistic experiences, written on the cusp of his retirement from The Nation. This book recalls Navasky's early work creating the political satire magazine Monocle while he was at Yale Law School, as well as his time working as a contributor at The New York Times. Concluding with a lengthy and impassioned description of his time at The Nation, this book lets readers in on the sometimes ugly, often humorous problems Navasky faced on the journey to promote independent journals of opinion.
The Art of Making Magazines
This colorful anthology edited by Victor Navasky and Evan Cornog contains anecdotes from editors, publishers, writers, and art directors from magazines such as Vanity Fair, The New Yorker, and Harper's Magazine to explore a range of issues concerning their profession. This book provides a rare inside look at the world of print media, and addresses the importance of magazine journalism as it develops within the context of its future digital environment.
Mission Accomplished! Or How We Won the War in Iraq
Discover the misinformation, disinformation, miscalculation, and egregious prognostications behind the United States' invasion of Iraq. This systematically categorized collection of the flat-out lies Americans were told about this war contains humorous (yet depressing) quotations such as: "Military action will not last more than a week" (Bill O'Reilly).