A little over a century ago, Ernest Shackleton set out on an unforgettable expedition. His goal was lofty: sail across icy waters to Antarctica and complete the first land crossing of that mysterious continent. But disaster struck before Shackleton and his crew reached their destination.
In October 1915, Endurance, a 144-foot, three-masted wooden ship, became trapped in floating ice that stretched as far as the eye could see. Shackleton gave the order to abandon ship, and his crew camped out on the thick pack ice for several months. A daring rescue mission followed, during which Shackleton and a few other crew members traveled over 800 miles in a lifeboat to find help from the outside world.
Meanwhile, Endurance was crushed by the ice and sank in the frigid waters of the Weddell Sea, where she's remained ever since. Her exact location has remained unknown until now. On March 9, 2022, a search expedition announced that it had discovered the wreck of Endurance.
The shipwreck was located 10,000 feet deep, and about four miles south of the last location recorded by Frank Worsley, the captain and navigator of Shackleton's voyage. A team of explorers, marine archaeologists, and technicians found it using undersea drones and sonar technology. The ship was discovered upright and in a remarkably well-preserved condition, thanks to the cold temperatures and lack of wood-eating marine organisms in that region of the Weddell Sea.
Related: 7 Books About Disastrous Shipwrecks in History
In accordance with the Antarctic Treaty, the expedition did not touch Endurance and treated the ship as a historical monument. They did, however, take amazing photographs that manage to give us an up-close look at the eerily preserved shipwreck, and finally put a century-long mystery to rest.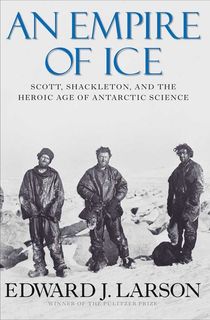 An Empire of Ice
A Pulitzer Prize–winning author examines the famed Antarctic voyages of Norwegian explorer Roald Amundsen and his British rivals Robert Scott and Ernest Shackleton, "wrapping the science in plenty of dangerous drama to keep readers engaged" (Booklist).