*Editor's note: This giveaway is closed.
Despite centuries' worth of kingdoms toppling, there are still dozens of monarchs reigning today—and none capture our attention quite like the British royalty. If you can relate, this giveaway is for you.
One grand prize winner will receive Tracy Borman's newest history book, Crown & Sceptre, which takes a deep dive into the enduring legacy of the British monarchy. The grand prize winner will also take home six more books by Borman, including three nonfiction accounts—Henry VIII and the Men Who Made Him, Thomas Cromwell, and The Private Lives of the Tudors—as well as a trilogy of historical fiction set during the tumultuous transitional period between the reign of the Tudors and the beginning of the Stuart era.
But that's not all! In addition to the grand prize winner, five selected runners up will receive a copy of Crown & Sceptre.
Enter your email address below for a chance to win this incredible bundle of Tracy Borman books.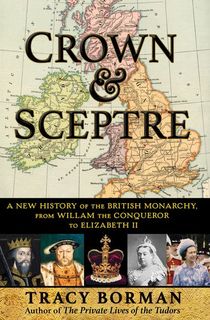 Crown & Sceptre
On the eve of Queen Elizabeth II's historic 70th anniversary on the throne, Tracy Borman's sweeping narrative of the British monarchy illuminates one of history's most iconic and enduring legacies
Since William the Conqueror, duke of Normandy, crossed the English Channel in 1066 to defeat King Harold II and unite England's various kingdoms, forty-one kings and queens have sat on Britain's throne: "shining examples of royal power and majesty alongside a rogue's gallery of weak, lazy, or evil monarchs," as Tracy Borman evocatively describes them in her sparkling chronicle, Crown & Sceptre. Ironically, during very few of these 955 years has the throne's occupant been unambiguously English―the Norman French, the Welsh-born Tudors, the Scottish Stuarts, and the Hanoverians and their German successors to the present day have dominated the throne.
Appealing to the intrinsic fascination with British royalty, Borman lifts the veil to reveal the remarkable characters and personalities who have ruled and, since the Glorious Revolution of 1688, have more ceremonially reigned―a crucial distinction explaining the staying power of the monarchy as the royal family has evolved and adapted to the needs and opinions of its people, avoiding the storms of rebellion that brought many of Europe's royals to an abrupt end. Richard III; Henry VIII; Elizabeth I; George III; Victoria; Elizabeth II: their names evoke eras and dramatic events, forming the sweep of British history that Borman recounts. She is equally attuned to the fabric of monarchy: the impact of royal palaces; the way monarchs have been portrayed in art, on coins, in the media; the ceremony and pageantry surrounding the crown.
In 2024, Elizabeth II would eclipse France's Louis XIV as the longest reigning monarch in history. Crown & Sceptre is a fitting tribute to her remarkable longevity and that of the magnificent institution she represents.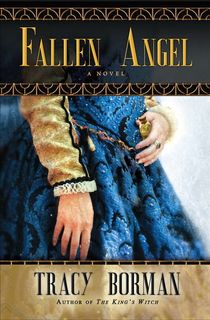 Fallen Angel
The gripping conclusion to the historical trilogy featuring Stuart-era healer Frances Gorges—from the author of The King's Witch and The Devil's Slave.

Life has never been quiet for Frances Gorges at the court of King James, but after finding herself at the center of plots and conspiracies for many years both as an accused witch and a secret Catholic, by 1614 Frances hopes to distance herself from the decadence and ruthlessness of the aging and venal monarch. However, when a handsome stranger appears at a courtier's country estate, he immediately draws the wandering eyes of the King, throwing the established order of the court into upheaval. George Villiers is ambitious and violent, ready to take down whatever—and whoever—stands in his way, including Frances and her husband Sir Thomas Tyringham.

New friends and old alliances—from Francis Bacon and Prince Charles to Sir Walter Raleigh—will offer Frances ways to resist the treachery of Villiers, but danger and Catholic plotting always lurks just around the corner, and sometimes from unexpected sources. With her meticulous eye for detail and evocative storytelling, Tracy Borman's The Fallen Angel is a riveting conclusion to her trilogy set during the first Stuart monarch's reign.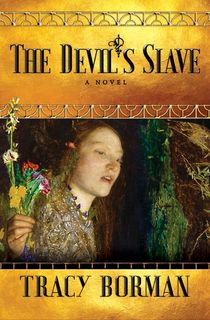 The Devil's Slave
The acclaimed author of The King's Witch continues her epic trilogy of Jacobean England as conspiracy haunts the court of King James.
In the court of King James, lady-in-waiting Frances Gorges was suspected of witchcraft for her healing skills. But when her lover was executed for his role in the Gunpowder Plot, she fled for her life—and that of her unborn child. Now Frances is compelled to return to the dissolute and dangerous court to marry Sir Thomas Tyringham, King James's master of hounds, who has agreed to assume paternity of her son.
Meanwhile, whispers of conspiracy continue to echo through the royal palace. Against this perilous backdrop, Frances reunites with her former mistress, the Princess Elizabeth, as well as other less friendly members of the court: Prince Henry, the unscrupulous heir to the crown; Lord Cecil, eager to persecute Frances as a witch; and King James himself, ever more paranoid and cruel towards alleged traitors. But she also discovers a surprising new ally: Sir Walter Raleigh, himself a prisoner in the tower of London. As he makes his intentions known, Frances again finds herself caught in a web of secrets, promises, and plots.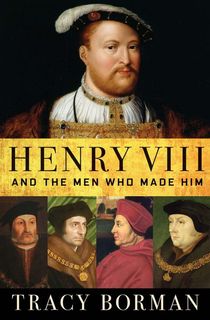 Henry VIII and the Men Who Made Him
The acclaimed historian presents a "beautifully perceptive and dynamic reassessment of Henry VIII…in this highly engrossing biography" (Booklist, starred review).

Henry VIII is best known for his tempestuous marriages and the fates of his six wives. But his reign and reputation were hugely influenced by his confidants, ministers, and even occasional rivals—many of whom have been underplayed in previous biographies. Exploring these relationships in depth, Tracy Borman offers a fresh perspective on the legendary king, revealing surprising contradictions in his beliefs and behavior.
Henry was capable of fierce but seldom abiding loyalty, of raising men up only to destroy them later. He loved to be attended by boisterous young men like his friend Charles Brandon, who shared his passion for sport. But the king could also be diverted by men of intellect, culture, and wit, as his longstanding interplay with Cardinal Wolsey and his reluctant abandonment of Thomas More attest.
Eager to escape the shadow of his father, Henry was easily led by male advisors early in his reign. In time, though, he matured into a profoundly paranoid and ruthless king. Recounting the great Tudor's life and signal moments through the lens of his male relationships, Henry VIII and the Men Who Made Him sheds fresh light on this fascinating figure.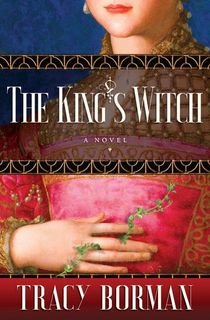 The King's Witch
In the acclaimed historian's debut novel, a lady-in-waiting in the court of King James is caught up in the Gunpowder Plot of 1605.
England, 1603. Nursing Queen Elizabeth through her last days, court healer Frances Gorges dreams of her parents' country estate, where she first learned to use the medicinal secrets of flowers and herbs. Frances is happy to stay at home when King James of Scotland succeeds to the throne of England. His court may be shockingly decadent, but his intolerant Puritanism sees witchcraft in many of the old customs—punishable by death.
When her ambitious uncle sends Frances back to the royal palace as a nanny to the princess, she is a ready target for the twisted scheming of the Privy Seal, Lord Cecil. As a dark campaign to destroy both King and Parliament gains momentum, Frances is surrounded by danger. She finding happiness only with the King's precocious daughter, and with Tom Wintour, the one courtier she feels she can trust. But even he has secrets to hide…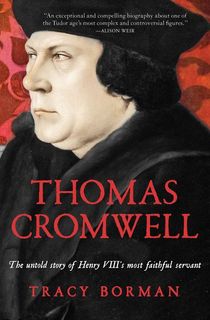 Thomas Cromwell
Thomas Cromwell has long been reviled as a Machiavellian schemer who stopped at nothing in his quest for power. As King Henry VIII's right-hand man, Cromwell was the architect of the English Reformation; secured Henry's divorce from Catherine of Aragon and plotted the downfall of his second wife, Anne Boleyn; and was fatally accused of trying to usurp the king himself. In this engrossing biography, acclaimed British historian Tracy Borman reveals a different side to one of history's most notorious characters: that of a caring husband and father, a fiercely loyal servant and friend, and a revolutionary who was key in transforming medieval England into a modern state.

Thomas Cromwell was at the heart of the most momentous events of his time—from funding the translation and dissemination of the first vernacular Bible to legitimizing Anne Boleyn as queen—and wielded immense power over both church and state. The impact of his seismic political, religious, and social reforms can still be felt today. Grounded in excellent primary source research, Thomas Cromwell gives an inside look at a monarchy that has captured the Western imagination for centuries and tells the story of a controversial and enigmatic man who forever changed the shape of his country.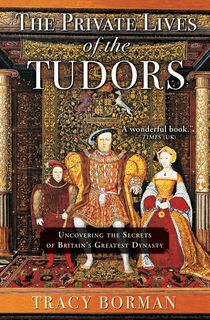 The Private Lives of the Tudors
A history focused on the monarchs' intimate daily lives that "furnishes readers with a 'Hey, did you know…?' on almost every page" (The New York Times Book Review).

England's Tudor monarchs—Henry VII, Henry VIII, Edward VI, Mary I, and Elizabeth I—are perhaps the most celebrated of history's royal families. But for all we know about them, their lives away from the public eye remain largely beyond our grasp.

Here, an acclaimed historian delves deep behind the public facade of the monarchs, showing us what their lives were like beyond the stage of the court. Drawing on original material from those closest to them—courtiers like the "groom of the stool," a much-coveted position, surprisingly—Tracy Borman examines Tudor life in fine detail. What did the monarchs eat? What clothes did they wear, and how were they designed, bought, and cared for? How did they wield power? When sick, how were they treated? What games did they play? How did they practice their faith? And whom did they love, and how did they give birth to the all-important heirs?

Exploring their education, upbringing, and sexual lives, and taking us into the kitchens, bathrooms, schoolrooms, and bedrooms at court, The Private Lives of the Tudors charts the course of the entire dynasty, surfacing new and fascinating insights into these celebrated figures.
For full details about the giveaway, see our official rules.
Note: The sweepstakes is open to all legal residents of the 50 United States and Washington, DC who are 18 years of age and older by 2/18/22.