Military history enthusiasts: We've got the giveaway for you. The Archive is offering four must-read books for history buffs interested in World War II. The giveaway includes Unbroken, the incredible survival story of World War II hero Louis Zamperini; The Miracle of Dunkirk, Walter Lord's bestselling book about Operation Dynamo; Rogue Heroes, the untold true story of World War II's greatest secret fighting force—the SAS; and, Hero of the Empire, which tells the story of Winston Churchill's capture and escape during a colonial war in South Africa.
Check out the full descriptions below, and enter now for an exciting chance to will these exceptional books!
Enter your email address for a chance to win this four-book bundle worth $90!
By submitting your email address you agree to receive emails from The Archive.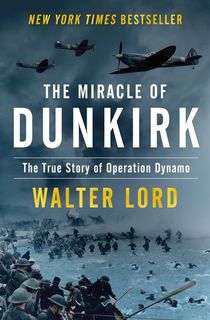 The Miracle of Dunkirk
The true story of the World War II evacuation portrayed in the Christopher Nolan film Dunkirk, by the #1 New York Times–bestselling author of Day of Infamy.

In May 1940, the remnants of the French and British armies, broken by Hitler's blitzkrieg, retreated to Dunkirk. Hemmed in by overwhelming Nazi strength, the 338,000 men gathered on the beach were all that stood between Hitler and Western Europe. Crush them, and the path to Paris and London was clear.

Unable to retreat any farther, the Allied soldiers set up defense positions and prayed for deliverance. Prime Minister Winston Churchill ordered an evacuation on May 26, expecting to save no more than a handful of his men. But Britain would not let its soldiers down. Hundreds of fishing boats, pleasure yachts, and commercial vessels streamed into the Channel to back up the Royal Navy, and in a week nearly the entire army was ferried safely back to England.

Based on interviews with hundreds of survivors and told by "a master narrator," The Miracle of Dunkirk is a striking history of a week when the outcome of World War II hung in the balance (Arthur Schlesinger Jr.).
Unbroken
#1 New York Times Bestseller
In boyhood, Louis Zamperini was an incorrigible delinquent. As a teenager, he channeled his defiance into running, discovering a prodigious talent that had carried him to the Berlin Olympics. But when World War II began, the athlete became an airman, embarking on a journey that led to a doomed flight on a May afternoon in 1943. When his Army Air Forces bomber crashed into the Pacific Ocean, against all odds, Zamperini survived, adrift on a foundering life raft. Ahead of Zamperini lay thousands of miles of open ocean, leaping sharks, thirst and starvation, enemy aircraft, and, beyond, a trial even greater. Driven to the limits of endurance, Zamperini would answer desperation with ingenuity; suffering with hope, resolve, and humor; brutality with rebellion. His fate, whether triumph or tragedy, would be suspended on the fraying wire of his will.

Unbroken is an unforgettable testament to the resilience of the human mind, body, and spirit, brought vividly to life by Seabiscuit author Laura Hillenbrand.
Rogue Heroes
The incredible untold story of WWII's greatest secret fighting force, as told by our great modern master of wartime intrigue

Britain's Special Air Service—or SAS—was the brainchild of David Stirling, a young, gadabout aristocrat whose aimlessness in early life belied a remarkable strategic mind. Where most of his colleagues looked at a battlefield map of World War II's African theater and saw a protracted struggle with Rommel's desert forces, Stirling saw an opportunity: given a small number of elite, well-trained men, he could parachute behind enemy lines and sabotage their airplanes and war material. Paired with his constitutional opposite, the disciplined martinet Jock Lewes, Stirling assembled a revolutionary fighting force that would upend not just the balance of the war, but the nature of combat itself. He faced no little resistance from those who found his tactics ungentlemanly or beyond the pale, but in the SAS's remarkable exploits facing the Nazis in the Africa and then on the Continent can be found the seeds of nearly all special forces units that would follow.

Bringing his keen eye for psychological detail to a riveting wartime narrative, Ben Macintyre uses his unprecedented access to SAS archives to shine a light inside a legendary unit long shrouded in secrecy. The result is not just a tremendous war story, but a fascinating group portrait of men of whom history and country asked the most.
Hero of the Empire
"A thrilling account.... This book is an awesome nail-biter and top-notch character study rolled into one." —New York Times Critic Jennifer Senior's Top Ten Books of 2016

At the age of twenty-four, Winston Churchill was utterly convinced it was his destiny to become prime minister of England. He arrived in South Africa in 1899, valet and crates of vintage wine in tow, to cover the brutal colonial war the British were fighting with Boer rebels and jumpstart his political career. But just two weeks later, Churchill was taken prisoner. Remarkably, he pulled off a daring escape—traversing hundreds of miles of enemy territory, alone, with nothing but a crumpled wad of cash, four slabs of chocolate, and his wits to guide him.

Bestselling author Candice Millard spins an epic story of bravery, savagery, and chance encounters with a cast of historical characters—including Rudyard Kipling, Lord Kitchener, and Mohandas Gandhi—with whom Churchill would later share the world stage. But Hero of the Empire is more than an extraordinary adventure story, for the lessons Churchill took from the Boer War would profoundly affect twentieth century history.
For full details, see official rules.
Note: The sweepstakes is open to all legal residents of the 50 United States and Washington, DC who are 18 years of age and older by 1/8/18.