Editor's note: This giveaway is now closed.
Terry Giles knows what it takes to make it big—without the help of a wealthy background. In his latest book, Giles breaks down the circumstances that make life seem impossible and how some individuals are able not only to overcome their beginnings, but excel in a chosen path. Giles believes that 15% of those born into or experiencing extreme adversity are able to rise far beyond what's expected of them. And becoming one of those few is possible for anyone.
Giles has seen it all. After growing up in poverty, he became one of Texas's most prominent lawyers. Then, after Richard Pryor set himself on fire (yes, literally), Giles became a Hollywood and Washington lawyer. Along the way, he represented clients at the center of prominent cases like Anna Nicole Smith's inheritance suit, the Lewinsky trial, and even the Catholic sex abuse scandal. But he gave it all up to become an entrepreneur.
As an entrepreneur, Giles was just as successful as he was in law, opening some 35 businesses—and eventually becoming Dr. Ben Carson's campaign chief in his 2016 presidential run. We're thrilled to be partnering with Skyhorse Publishing to give away five copies of Giles's newest book, sure to become a motivational classic.
Enter your email address for your chance to win one of five copies of The Fifteen Percent!
By submitting your email, you agree to subscribe to The Archive's newsletter.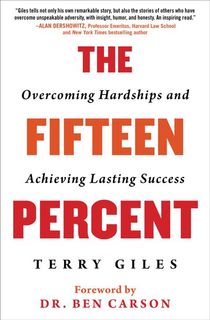 The Fifteen Percent
One of today's most successful entrepreneurs shares his story "of inspiration and information [that] will inspire you to push yourself to the next level" (Stedman Graham, businessman, speaker, and author of Identity Leadership).

Terry Giles, "the man behind the scenes who litigated—and sometimes mitigated—some of the most sensationally nasty celebrity and political dramas of the last several decades" (The Texas Tribune), attributes his own success to being part of "the fifteen percent" of people who are able to rise above despair and succeed against all odds. Using examples from his career and life—defending child sex abuse victims, his involvement in Monica Lewinsky's trial, and even managing Dr. Ben Carson's 2016 presidential campaign—he illustrates these ideas in action. In each chapter, you'll learn valuable skills, including fearlessness, embracing underdog status, visualizing the future, and positive thinking—and proving that you do not have to be a victim of bad circumstances to adopt the superpowers of "the fifteen percent."

Entertaining, inspiring, and full of useful insights, The Fifteen Percent will help you overcome whatever's holding you back, so you can achieve lasting success.

"A tour de force that encapsulates a lifetime of wisdom and service that exemplifies what it is to truly live the American Dream . . . a surefire recipe for outlandish success—I know; because I have been blessed to count Terry among my closest mentors and friends for over thirty years." —Armstrong Williams, broadcast entrepreneur and syndicated columnist

"A powerful and balanced account of his personal and professional journeys . . . it truly exemplifies his vision, courage, kindness, humility, and old-fashioned grit." —Robert J. Brown, author of You Can't Go Wrong Doing Right
For full details, see official rules.
Note: The sweepstakes is open to all legal residents of the 50 United States and Washington, DC who are 18 years of age and older by February 28, 2020.
Featured image: Ales Krivec / Unsplash