*Note: this giveaway has ended.
James Holland is an English broadcaster and author of over a dozen books, with particular specialization in the history of World War II. From Germany's quick rise to power in the beginning of the war to the tumultuous Normandy landings in 1944, Holland offers an insightful look at every key moment in this global conflict. And now you'll have a chance to dive even deeper into this vast well of military history.
This month, one lucky grand prize winner will receive a bundle of seven World War II history books by James Holland—including his newest release, Brothers in Arms. An additional five winners will each receive a copy of Brothers in Arms.
Read more about the books below, and enter your email address for a chance to win these exceptional books!
Available November 16, 2021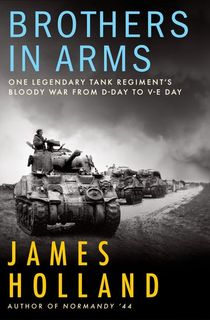 Brothers in Arms
One of the last cavalry units to ride horses into battle, the Sherwood Rangers were transformed into a "mechanized cavalry" of tanks in 1942. After winning acclaim in the North African campaign, they spearheaded one of the D-Day landings in Normandy and became the first British troops to cross into Germany. Their courage, skill and tenacity contributed mightily to the surrender of Germany in 1945.

Inspired by Stephen Ambrose's Band of Brothers, historian James Holland profiles this extraordinary group of citizen soldiers. Informed by never-before-seen documents, letters, photographs, and other artifacts from Sherwood Rangers' families, Holland offers a uniquely intimate portrait of the war at ground level.

Brothers in Arms introduces heroes such as Commanding Officer Stanley Christopherson, squadron commander John Semken, Sergeant George Dring, and others who helped their regiment earn the most battle honors of any in British army history. Weaving their exploits into the larger narrative of D-Day to V-E Day, Holland offers fresh analysis and perspective on the endgame of WWII in Europe.
Sicily '43
On July 10, 1943, the largest amphibious invasion ever mounted took place, larger even than the Normandy invasion eleven months later: 160,000 American, British, and Canadian troops came ashore or were parachuted onto Sicily, signaling the start of the campaign to defeat Nazi Germany on European soil. Operation HUSKY, as it was known, was enormously complex, involving dramatic battles on land, in the air, and at sea. Yet, despite its paramount importance to ultimate Allied victory, and its drama, very little has been written about the 38-day Battle for Sicily.
Based on his own battlefield studies in Sicily and on much new research, James Holland's Sicily '43 offers a vital new perspective on a major turning point in World War II and a chronicle of a multi-pronged campaign in a uniquely diverse and contained geographical location. The characters involved―Generals George Patton and Bernard Montgomery among many―were as colorful as the air and naval battles and the fighting on the ground across the scorching plains and mountaintop of Sicily were brutal. But among Holland's great skills is incorporating the experience of on-the-ground participants on all sides―from American privates Tom and Dee Bowles and Tuskegee fighter pilot Charlie Dryden to British major Hedley Verity and Canadian lieutenant Farley Mowat (later a celebrated author), to German and Italian participants such as Wilhelm Schmalz, brigade commander in the Hermann Göring Division, or Luftwaffe fighter pilot major Johannes "Macky" Steinhoff and to Italian combatants, civilians and mafiosi alike―which gives readers an intimate sense of what occurred in July and August 1943.
Emphasizing the significance of Allied air superiority, Holland overturns conventional narratives that have criticized the Sicily campaign for the vacillations over the plan, the slowness of the Allied advance and that so many German and Italian soldiers escaped to the mainland; rather, he shows that clearing the island in 38 days against geographical challenges and fierce resistance was an impressive achievement. A powerful and dramatic account by a master military historian, Sicily '43 fills a major gap in the narrative history of World War II.
Normandy '44
D-Day, June 6, 1944, and the seventy-six days of bitter fighting in Normandy that followed the Allied landing, have become the defining episode of World War II in the west—the object of books, films, television series, and documentaries. Yet as familiar as it is, as James Holland makes clear in his definitive history, many parts of the OVERLORD campaign, as it was known, are still shrouded in myth and assumed knowledge.

Drawing freshly on widespread archives and on the testimonies of eye-witnesses, Holland relates the extraordinary planning that made Allied victory in France possible; indeed, the story of how hundreds of thousands of men, and mountains of materiel, were transported across the English Channel, is as dramatic a human achievement as any battlefield exploit. The brutal landings on the five beaches and subsequent battles across the plains and through the lanes and hedgerows of Normandy—a campaign that, in terms of daily casualties, was worse than any in World War I—come vividly to life in conferences where the strategic decisions of Eisenhower, Rommel, Montgomery, and other commanders were made, and through the memories of paratrooper Lieutenant Dick Winters of Easy Company, British corporal and tanker Reg Spittles, Thunderbolt pilot Archie Maltbie, German ordnance officer Hans Heinze, French resistance leader Robert Leblanc, and many others.

For both sides, the challenges were enormous. The Allies confronted a disciplined German army stretched to its limit, which nonetheless caused tactics to be adjusted on the fly. Ultimately ingenuity, determination, and immense materiel strength—delivered with operational brilliance—made the difference. A stirring narrative by a pre-eminent historian, Normandy '44 offers important new perspective on one of history's most dramatic military engagements and is an invaluable addition to the literature of war.
Big Week
During the third week of February 1944, the combined Allied air forces based in Britain and Italy launched their first round-the-clock bomber offensive against Germany. Their goal: to smash the main factories and production centers of the Luftwaffe while also drawing German planes into an aerial battle of attrition to neutralize the Luftwaffe as a fighting force prior to the cross-channel invasion, planned for a few months later. Officially called Operation ARGUMENT, this aerial offensive quickly became known as "Big Week," and it was one of the turning-point engagements of World War II.
In Big Week, acclaimed World War II historian James Holland chronicles the massive air battle through the experiences of those who lived and died during it. Prior to Big Week, the air forces on both sides were in crisis. Allied raids into Germany were being decimated, but German resources―fuel and pilots―were strained to the breaking point. Ultimately new Allied aircraft―especially the American long-range P-51 Mustang―and superior tactics won out during Big Week. Through interviews, oral histories, diaries, and official records, Holland follows the fortunes of pilots, crew, and civilians on both sides, taking readers from command headquarters to fighter cockpits to anti-aircraft positions and civilian chaos on the ground, vividly recreating the campaign as it was conceived and unfolded. In the end, the six days of intense air battles largely cleared the skies of enemy aircraft when the invasion took place on June 6, 1944―D-Day.
Big Week is both an original contribution to WWII literature and a brilliant piece of narrative history, recapturing a largely forgotten campaign that was one of the most critically important periods of the entire war.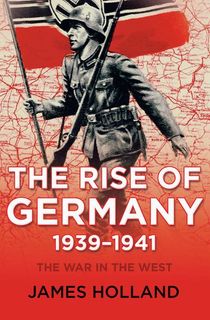 The Rise of Germany, 1939–1941
James Holland, one of the leading young historians of World War II, has spent over a decade conducting new research, interviewing survivors, and exploring archives that have never before been so accessible to unearth forgotten memoirs, letters, and official records.

In The Rise of Germany, 1939–1941, Holland draws on this research to reconsider the strategy, tactics, and economic, political, and social aspects of the war. The Rise of Germany is a masterful book that redefines our understanding of the opening years of World War II. Beginning with the lead-up to the outbreak of war in 1939 and ending in the middle of 1941 on the eve of Operation Barbarossa, the Nazi invasion of Russia, this book is a landmark history of the war on land, in the air, and at sea.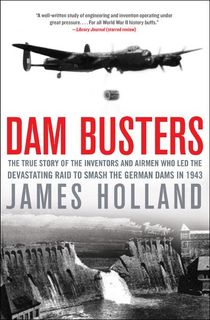 Dam Busters
The night of May 16, 1943: Nineteen specially adapted Lancaster bombers take off from an RAF airfield in Lincolnshire, England, each with a huge nine-thousand-pound cylindrical bomb strapped underneath it. Their mission: to destroy three hydroelectric dams that power the Third Reich's war machine.

It was a suicide mission from the outset. First the men had to fly extremely low, at night, and in tight formation over miles of enemy-occupied territory. Then they had to drop with pinpoint precision a complicated spinning cylindrical bomb that had never before been used operationally. More than that, the entire operation had to be put together in less than ten weeks in order to hit the dams when water levels were still high enough for the bombs to be effective.

The visionary aviation engineer Barnes Wallis hadn't even drawn up plans for his concept when the bouncing bomb was green-lighted. What followed was an incredible race against time that, despite numerous setbacks, became one of the most successful and significant bombing raids of all time. "Holland has delved into the new trove" of declassified documents "to shed light on this weapons program, the politics of its development and the eventual mission" (The Wall Street Journal).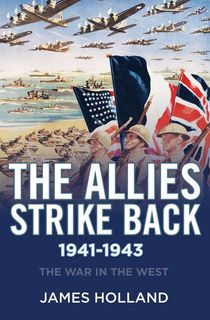 The Allies Strike Back, 1941–1943
James Holland's The Rise of Germany, the first volume in his War in the West trilogy, was widely praised for his impeccable research and lively narrative. Covering the dawn of World War II, it ended at a point when the Nazi war machine appeared to be unstoppable. Germany had taken Poland and France with shocking speed. London was bombed, and U-boats harried shipping on the Atlantic. But Germany hadn't actually won the Battle of Britain or the Battle of the Atlantic. It was not producing airplanes or submarines fast enough. And what looked like victory in Greece and Crete had expended crucial resources in short supply.

The Allies Strike Back continues the narrative as Germany's invasion of Russia unfolds in the east, while in the west, the Americans formally enter the war. In North Africa, following major setbacks at the hands of Rommel, the Allies storm to victory. Meanwhile, the bombing of Germany escalates, aiming to not only destroy the its military, industrial, and economic system, but also relentlessly crush civilian morale. Comprehensive and impeccably researched, "Holland brings a fresh eye to the ebb and flow of the conflict" in this "majestic saga" of 20th century history (Literary Review, UK).
For full details about the giveaway, see our official rules.
Note: The sweepstakes is open to all legal residents of the 50 United States and Washington, DC who are 18 years of age and older by 11/12/21.