Mark Bowden is widely believed to be one of his generation's best authors and journalists. Known for his immersive and captivating storytelling, he has a true knack for taking complex and often dry subjects and turning them into gripping narratives that keep readers on the edge of their seats. His expansive list of books covers a wide variety of topics focused on war, diplomacy, sports, and even true crime.
But his greatest reads recount tense historical moments with signature Bowden research, which involves years of story building, numerous interviews, and poring over sources to get to the heart of any story. His best-known work, Black Hawk Down, is proof of his meticulous attention to detail and commitment to accuracy. It's a classic work of military journalism that painstakingly follows the events surrounding the tragic Battle of Mogadishu.
For history fans looking for books that read like gripping novels, Mark Bowden is the author for you. Explore nine of his classic historical works below and travel back to the moments that shaped America as we know it.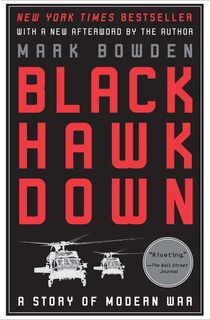 Black Hawk Down
Mark Bowden's thrilling narrative recounts the events of October 3, 1993, when around 100 U.S. soldiers were air dropped into a bustling market in the heart of Mogadishu, Somalia during the ongoing Somali Civil War. They were tasked with the mission to capture two high-ranking lieutenants of a Somali warlord. The mission was to be completed within an hour, but instead, the soldiers found themselves locked in a grueling and horrifying nightlong battle against thousands of heavily armed Somalis.
When the sun rose the next morning, 18 Americans had lost their lives, and more than 70 were severely wounded. Bowden's spellbinding account is among the most enthralling depictions of modern warfare, depicting the bravery, courage, and savagery of battle.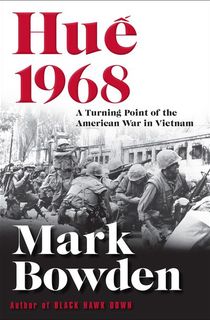 Hue 1968
With firsthand access to war archives in the United States and Vietnam and interviews with soldiers from both sides, Mark Bowden masterfully narrates each stage of the Battle of Hue through multiple viewpoints. Lasting for over 24 days and ultimately ending 10,000 lives, this urban battle fought out on the streets of Hue was by far the deadliest of the entire Vietnam War. When all was said and done, America was no longer focused solely on winning the war, only on how to leave.
Hue 1968 is revered as one of Bowden's greatest works and was a Los Angeles Times Book Prize Finalist in History. This account helps us to better understand how pivotal this moment was during the Vietnam War. And on its own, it is an extraordinary work of journalism and archival research.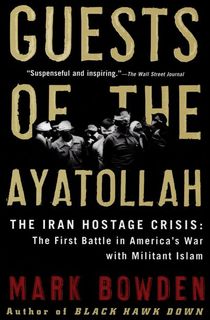 Guests of the Ayatollah
In 1979, a group of students who supported the Iranian Revolution stormed the U.S. embassy in Tehran and took 52 American hostages, holding most of them captive for over 400 days. Mark Bowden recounts this intense period through the perspectives of the hostages, rescue teams, captors, and diplomats.
Read on for an intimate look into the hostages' journeys, meetings between President Carter and negotiators, and one failed and ultimately tragic attempt to rescue the hostages in the deserts of Iran. Bowden's research took five years to complete, including numerous trips to Iran and extensive interviews with key figures. This is a highly detailed, compelling, and suspenseful account of a crisis that will never be forgotten.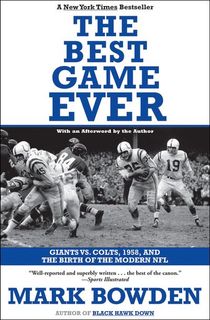 The Best Game Ever
In 1958, the New York Giants and Baltimore Colts went head-to-head in the NFL Championship game. A record-breaking 45 million viewers, the largest audience at the time for a football game, tuned in to witness the first ever sudden-death overtime in NFL history. The game pitted the league's top offense, the blue-collar Colts, against the glamorous Giants squad. It showcased 17 future Hall of Famers, including Colts legends Johnny Unitas, Raymond Berry, and Gino Marchetti, and Giants greats Frank Gifford and Sam Huff.
The Best Game Ever offers a masterful portrayal of how this singular event changed the course of American sports history. Originally released on the 50th anniversary of the championship, it is well on its way to becoming a sports classic.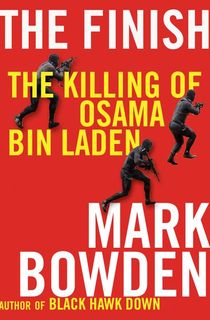 The Finish
After orchestrating the devastating attacks of September 11, 2001, Osama bin Laden evaded capture for a decade, forcing America to develop new tactics to combat the scattered and elusive al Qaeda network. Bowden chronicles the step-by-step evolution of a tactical strategy that fused intelligence from various agencies with on-the-ground special operations.
By spring 2011, following numerous missions in Iraq and Afghanistan, intelligence suggested that bin Laden could be hiding in a compound located in Abbottabad, with a 50/50 chance of his presence. Three possible strategies were suggested: a drone strike, a precision bombing, or a Navy SEAL assault. Ultimately, the decision rested with President Barack Obama. With electrifying precision, Bowden leads readers through the tense journey to assassinate the orchestrator of 9/11.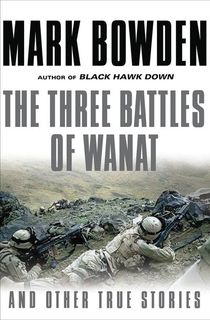 The Three Battles of Wanat
For those who appreciate outstanding narrative nonfiction, and particularly for admirers of Mark Bowden, this is an essential anthology featuring some of his best writing.
The collection's title piece, The Three Battles of Wanat, recounts one of the deadliest days in the Afghan War and the consequences it held for the US military for several years thereafter. The Killing Machines examines the legal, moral, and strategic issues associated with weaponized drones, while The Bright Sun of Juche provides an intriguing perspective on Kim Jong-un, the world's youngest and most enigmatic dictator.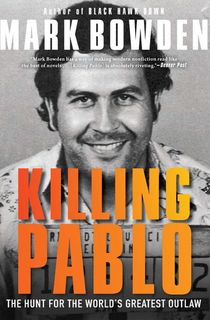 Killing Pablo
In this thrilling recount, Bowden takes us on the hunt to find Colombian druglord Pablo Escobar after he escaped from prison. He closely details Escobar's life story, from his modest childhood to starting a life of crime as a teenager and building his drug empire.
Bowden's exhaustive research included access to documents never seen before as well as interviews with soldiers, agents, and police officers who were directly involved. Riddled with details and ever-compelling, this is an intimate view of the 15-month chase that ended in the final takedown of the world's once most powerful drug trafficker.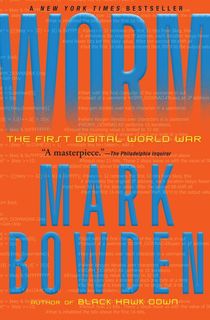 Worm
In 2008, the world's largest cyber attack spread via a computer worm called the Conficker. It took advantage of a weak spot in the Windows operating system and infected millions of computers across more than 100 different countries. Bowden crafts a page-turning narrative of the group focused on combating the virus.
A team of researchers, anti-virus companies, and others teamed up to form the Conficker Working Group (also known as the Conficker Cabal). Having successfully pulled the worm apart, they set after trying to defeat it. But it wasn't an easy battle. With limited resources and little to no internal communication, the Cabal struggled to protect the Internet against those determined to destroy it. Bowden's excellent journalism is on true display here, as he describes the intricacies of computers and malware in a way everyone can follow.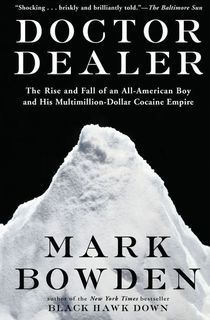 Doctor Dealer
Larry Lavin seemed like the perfect well-rounded Ivy League kid, except he had a major drug problem. While attending the University of Pennsylvania, Lavin indulged in a lifestyle filled with wild parties and his drug of choice, cocaine. After college, he opened his own dental practice but kept a secret side job—as a cocaine kingpin.
With an elite group of buyers, Lavin supplied thousands of kilos of cocaine from Mexico to the East Coast. His lavish lifestyle eventually caught the attention of the authorities, crumbling the empire he created. Bowden's account shows an in-depth look into Lavin's steady climb to wealth and success, followed by his downfall, which ending in imprisonment and his family's disgrace.