*Editor's note: This giveaway is now closed.
History books offer a broad look at times gone by, providing insight into moments of change that can help us grow and learn as we move toward the future. Historical fiction, however, gives readers a glimpse into what life in the past might have looked like for certain individuals. The genre explores the minutiae of daily living, weaving a more emotionally driven tale than pure fact can offer. With a keen eye for detail, historical fiction melds high-impact drama with a realistic, detailed atmosphere. And in partnership with Kensington, we're here to offer you the opportunity to take home five of these incredible reads for free.
One grand prize winner will receive a bundle of captivating historical fiction books, including The Nurse's Secret by Amanda Skenandore, The Seamstress of New Orleans by Diane C. McPhail, When the Apricots Bloom by Gina Wilkinson, The War Girls by V.S. Alexander, and an advanced reader copy of The Lost Girls of Willowbrook by Ellen Marie Wiseman, which will be published on August 30th. The winner will also receive a stylish "All Booked Up" tote bag that is perfect for a summer on the go.
Enter your email address below for a chance to win this exciting prize bundle.
By entering your email address, you agree to receive emails from The Archive and Kensington Books.
The Nurse's Secret
Based on Florence Nightingale's nursing principles, Bellevue is the first school of its kind in the country. Where once nurses were assumed to be ignorant and unskilled, Bellevue prizes discipline, intellect, and moral character, and only young women of good breeding need apply. At first, Una balks at her prim classmates and the doctors' endless commands. Yet life on the streets has prepared her for the horrors of injury and disease found on the wards, and she slowly gains friendship and self-respect.

Just as she finds her footing, Una's suspicions about a patient's death put her at risk of exposure, and will force her to choose between her instinct for self-preservation, and exposing her identity in order to save others.

Amanda Skenandore brings her medical expertise to a page-turning story that explores the evolution of modern nursing—including the grisly realities of nineteenth-century medicine—as seen through the eyes of an intriguing and dynamic heroine.
The Seamstress of New Orleans
Set against the backdrop of the first all-female Mardi Gras krewe at the turn-of-the-century, the acclaimed author's mesmerizing historical novel tells of two strangers separated by background but bound by an unexpected secret—and of the strength and courage women draw from and inspire in each other.

The year 1900 ushers in a new century and the promise of social change, and women rise together toward equality. Yet rules and restrictions remain, especially for women like Alice Butterworth, whose husband has abruptly disappeared. Desperate to make a living for herself and the child she carries, Alice leaves the bitter cold of Chicago far behind, offering sewing lessons at a New Orleans orphanage.

Constance Halstead, a young widow reeling with shock under the threat of her late husband's gambling debts, has thrown herself into charitable work. Meeting Alice at the orphanage, she offers lodging in exchange for Alice's help creating a gown for the Leap Year ball of Les Mysterieuses, the first all‑female krewe of Mardi Gras. During Leap Years, women have the rare opportunity to take control in their interactions with men, and upend social convention. Piece by piece, the breathtaking gown takes shape, becoming a symbol of strength for both women, reflecting their progress toward greater independence.

But Constance carries a burden that makes it impossible to feel truly free. Her husband, Benton, whose death remains a dangerous mystery, was deep in debt to the Black Hand, the vicious gangsters who controlled New Orleans' notorious Storyville district. Benton's death has not satisfied them. And as the Mardi Gras festivities reach their fruition, a secret emerges that will cement the bond between Alice and Constance even as it threatens the lives they're building . . .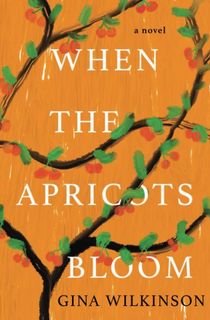 When the Apricots Bloom
In this moving, suspenseful debut novel, three courageous women confront the complexities of trust, friendship, motherhood, and betrayal under the rule of a ruthless dictator and his brutal secret police. Former foreign correspondent Gina Wilkinson draws on her own experiences to take readers inside a haunting story of Iraq at the turn of the millennium and the impossible choices faced by families under a deadly regime.

At night, in Huda's fragrant garden, a breeze sweeps in from the desert encircling Baghdad, rustling the leaves of her apricot trees and carrying warning of visitors at her gate. Huda, a secretary at the Australian embassy, lives in fear of the mukhabarat—the secret police who watch and listen for any scrap of information that can be used against America and its allies. They have ordered her to befriend Ally Wilson, the deputy ambassador's wife. Huda has no wish to be an informant, but fears for her teenaged son, who may be forced to join a deadly militia. Nor does she know that Ally has dangerous secrets of her own.

Huda's former friend, Rania, enjoyed a privileged upbringing as the daughter of a sheikh. Now her family's wealth is gone, and Rania too is battling to keep her child safe and a roof over their heads. As the women's lives intersect, their hidden pasts spill into the present. Facing possible betrayal at every turn, all three must trust in a fragile, newfound loyalty, even as they discover how much they are willing to sacrifice to protect their families.
The Lost Girls of Willowbrook
In her most powerful novel to date, New York Times bestselling author Ellen Marie Wiseman masterfully and viscerally evokes the real-life Willowbrook State School, the infamous Staten Island, New York, mental institution that shocked a nation when exposed in the 1970s as a dumping ground for unwanted children.

Girl, Interrupted meets Shutter Island in this gripping narrative of social injustice, survival, and a young woman determined to find her sister.

Sage Winters always knew her sister was a little different even though they were identical twins. They loved the same things and shared a deep understanding, but Rosemary—awake to every emotion, easily moved to joy or tears—seemed to need more protection from the world.

Six years after Rosemary's death from pneumonia, Sage, now sixteen, still misses her deeply. Their mother perished in a car crash, and Sage's stepfather, Alan, resents being burdened by a responsibility he never wanted. Yet despite living as near strangers in their Staten Island apartment, Sage is stunned to discover that Alan has kept a shocking secret: Rosemary didn't die. She was committed to Willowbrook State School and has lingered there until just a few days ago, when she went missing.

Sage knows little about Willowbrook. It's always been a place shrouded by rumor and mystery. A place local parents threaten to send misbehaving kids. With no idea what to expect, Sage secretly sets out for Willowbrook, determined to find Rosemary. What she learns, once she steps through its doors and is mistakenly believed to be her sister, will change her life in ways she never could have imagined . . .
The War Girls
Based on true WWII stories of life in the Warsaw Ghetto during the Occupation and the women who served the Allies as agents and spies, this new historical fiction novel from an acclaimed author is perfect for fans of Kate Quinn, Kristin Harmel, and Pam Jenoff. Casting light into one of the darkest periods of World War II, this powerful book tells of two Jewish sisters– one imprisoned in Poland and the other who joins the Special Operations Executive in a daring attempt to free her family from the Nazis.

It's not just a thousand miles that separates Hanna Majewski from her younger sister, Stefa. There is another gulf—between the traditional Jewish ways that Hanna chose to leave behind in Warsaw, and her new, independent life in London. But as autumn of 1940 draws near, Germany begins a savage aerial bombing campaign in England, killing and displacing tens of thousands. Hanna, who narrowly escapes death, is recruited as a spy in an undercover operation that sends her back to her war-torn homeland.

In Hanna's absence, her parents, sister, and brother have been driven from their comfortable apartment into the Warsaw Ghetto. Sealed off from the rest of the city, the Ghetto becomes a prison for nearly half a million Jews, struggling to survive amid starvation, disease, and the constant threat of deportation to Treblinka. Once a pretty and level-headed teenager, Stefa is now committed to the Jewish resistance. Together, she, Hanna, and Janka, a family friend living on the Aryan side of the city, form a trio called The War Girls. Against overwhelming odds and through heartbreak they will fight to rescue their loved ones, finding courage through sisterhood to keep hope alive . . .
For full details about the giveaway, see our official rules.
The sweepstakes is open to all legal residents of the 50 United States and Washington, DC who are 18 years of age and older by 7/1/22.
Featured image: Patrick Tomasso/Unsplash