What is immersive journalism? For those who are writing it, it is a way of life, joining a community for weeks, months, or even years to live amongst them and try to experience life from a new perspective. For those of us who read immersive journalism books, it is a way to see and experience things that we might otherwise never have the chance to experience.
After all, how many of us have been guards at New York's infamous Sing Sing Prison, or an Afghan refugee desperately seeking asylum in Europe? These may not be events we would necessarily relish were they really happening to us, but these intrepid journalists have lived alongside the people who experience it every day, and brought their stories back to us in these incredible books.
Newjack: Guarding Sing Sing
New York's Sing Sing Prison is one of the most notorious in the world. When immersive journalist Ted Conover's request to shadow a recruit among the prison guards was denied, he applied for the job himself—and got it. The result is a National Book Critics Circle Award-winning story that is "as good as it gets—by turns gripping, funny, frightening, and sad" (The Washington Post Book World). As Conover explores the life of a guard in the infamous prison, he exposes what life is like for the inmates there, the people whose job it is to monitor them, and how the American prison system affects everyone who comes into contact with it, whether they are behind bars or outside of them.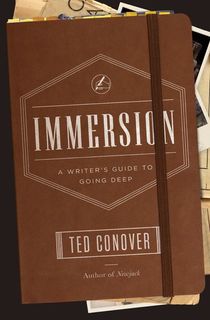 Immersion
Over three and a half decades, Ted Conover's name has become synonymous with immersive journalism. He has guarded prisoners, hitched rides on the railroad, and inspected meat for the USDA. But how did he do it? In this "warm and generous guide for students and others aspiring to produce the kind of finely observed prose that represents journalism's literary apex" (Journalism & Mass Communication Quarterly), Conover distills decades of experience into advice for how to enter a community, how to behave once you're inside, and the ethics that govern the stories that one tells about it. It's a detailed and approachable "how-to" for immersive journalism, from one of the best names in the business.
Nickel and Dimed
"Nickel and Dimed is not only important but transformative in its insistence that we take a long hard look at the society we live in," wrote Francise Prose at O, The Oprah Magazine, discussing Barbara Ehrenreich's "impassioned, fascinating, profoundly significant, and wildly entertaining" book about living at the bottom in America. To write the book, Ehrenreich took the cheapest lodgings she could find in several states, and worked at minimum-wage jobs to see how those who have been left behind by the American Dream survive. The result is a firebrand of a book that remains as relevant today as when it was written, and one that shows why The New York Times Book Review called Ehrenreich "our premier reporter of the underside of capitalism."
Invisible Child: Poverty, Survival & Hope in an American City
This "vivid and devastating" (New York Times) national bestseller won the Pulitzer Prize for its searing depiction of the life of one girl in Brooklyn as she and her siblings attempt to navigate a world that has been severely limited by structural racism, and a life filled with looming threats of hunger, violence, drug addiction, and foster care. This deeply immersive story gives a day-by-day, blow-by-blow chronicle of a world that most of us never see, one filled with hope and horror, all told through the experiences of one unforgettable girl. See why Publishers Weekly called it "a remarkable achievement that speaks to the heart and conscience of a nation."
The Naked Don't Fear the Water
When an Afghan driver and translator makes the difficult choice to flee his home country and join a growing river of refugees seeking sanctuary abroad, he is joined by his friend, Matthieu Aikins, a war journalist living in Kabul. What follows is a "riveting" (Kirkus Reviews) book that is a "timely, personal, and deeply human" look at "one of the world's most enduring crises" (Booklist). As Matthieu and Omar travel from Afghanistan to Europe, this unforgettable book chronicles the dangers that they face, the fears and the doubts that assail them, and the hope that keeps them going, as well as the smugglers, activists, cops, and fellow refugees they encounter along the way.
Yellow Bird: Oil, Murder, and a Woman's Search for Justice in Indian Country
Named one of the best books of the year by The New York Times Book Review, NPR, and Publishers Weekly, this Pulitzer Prize finalist was nominated for an Edgar Award for its depiction of Lissa Yellow Bird, a resident of the Fort Berthold Reservation in North Dakota, who found her home transformed by an oil boom when she was released from prison in 2009. When one of the oil workers goes missing and no one seems to care, Lissa Yellow Bird begins an obsessive quest to track him down amid a world that she barely recognizes, while at the same time trying to atone for her own past crimes and reckon with generations of trauma.
The Newcomers: Finding Refuge, Friendship, and Hope in America
This award-winning book "reads more like an anthropologist's notebook than a work of reportage" (Los Angeles Review of Books). Celebrated author Helen Thorpe tells the unforgettable story of 22 immigrant teens moving through the Denver public school system, centered upon an English Language Acquisition class taught by Mr. Williams, a spirited and enterprising teacher who tries to make a difference in lives that have been rocked by war, famine, and other struggles. The result is an "extraordinary" (The Denver Post) reminder that "in an era of nativism, some Americans are still breaking down walls and nurturing the seeds of the great American experiment" (The New York Times Book Review).