Nominated for three Golden Globe awards, including Best Motion Picture—Drama and Best Director, the film Dunkirk took the world by storm this summer. Walter Lord's fascinating look at the real events that inspired the movie is equally compelling and is based on hundreds of interviews with survivors.
Together with We Are The Mighty, The Archive is giving away five copies of The Miracle of Dunkirk. Learn more about the book below – and enter for your chance to win this skillfully told story.
By submitting your email address you agree to receive emails from The Archive and We Are The Mighty.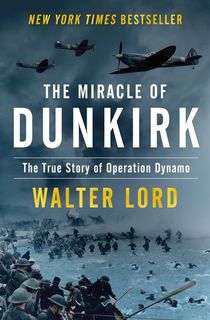 The Miracle of Dunkirk
The true story of the World War II evacuation portrayed in the Christopher Nolan film Dunkirk, by the #1 New York Times–bestselling author of Day of Infamy.
In May 1940, the remnants of the French and British armies, broken by Hitler's blitzkrieg, retreated to Dunkirk. Hemmed in by overwhelming Nazi strength, the 338,000 men gathered on the beach were all that stood between Hitler and Western Europe. Crush them, and the path to Paris and London was clear.
Unable to retreat any farther, the Allied soldiers set up defense positions and prayed for deliverance. Prime Minister Winston Churchill ordered an evacuation on May 26, expecting to save no more than a handful of his men. But Britain would not let its soldiers down. Hundreds of fishing boats, pleasure yachts, and commercial vessels streamed into the Channel to back up the Royal Navy, and in a week nearly the entire army was ferried safely back to England.
Based on interviews with hundreds of survivors and told by "a master narrator," The Miracle of Dunkirk is a striking history of a week when the outcome of World War II hung in the balance (Arthur Schlesinger Jr.).
For full details, see official rules.
Note: The sweepstakes is open to all legal residents of the 50 United States and Washington, DC who are 18 years of age and older by 1/15/18.