If you're anything like us, Ron Chernow's smash-hit biography and its stage adaptation have left you with a case of Hamilton fever. But after reading a 500-page book and seeing the play, there's little else to learn about the iconic founding father, right? Wrong.
These 12 books for Hamilton fans, which take a look at some of the founding father's closest friends and staunchest enemies, give us greater insight into the man we still can't get enough of.
Duel with the Devil: The True Story of How Alexander Hamilton and Aaron Burr Teamed Up to Take on America's First Sensational Murder Mystery
Tensions were mounting in late 1799, while Alexander Hamilton and Aaron Burr—the embittered leaders of the Federalist and Republican parties, respectively—prepared for the upcoming election. But this was years before Burr's bullet took Hamilton's life, and a Quaker woman's brutal murder would unite the political and courtroom rivals under a single cause. Duel with the Devil recounts how the two longtime adversaries became unlikely allies as they defended the alleged killer of America's longest-running cold case.
A Master Passion: The Story of Alexander Hamilton and Elizabeth Schuyler Hamilton
It's no secret that Alexander Hamilton was hardly the ideal husband. Aside from the extramarital dalliances, Hamilton's passion for his country far eclipsed his feelings for his wife, Eliza. But their relationship wasn't always strained—and, in fact, had beginnings worthy of any great love story. From a young Hamilton's surprising but brazen courtship to Betsy's lifelong devotion, A Master Passion tracks the tumultuous path of the marriage between a flawed hero and the faithful, intelligent partner.
The Quartet: Orchestrating the Second American Revolution
The success of the American Revolution did not guarantee that the 13 colonies, temporarily united for the fight, would become a cooperative nation. Luckily, a team of four fought to ensure their continued cooperation and acceptance of a single government. Among them was none other than Alexander Hamilton, accompanied by George Washington, John Jay, and James Madison. So how exactly did these men take us from Point A to Point B? Pulitzer Prize-winner Joseph J. Ellis blows away the dust of long-kept myths to reveal the truth of how our country came to be.
Your library is looking dusty. Sign up for The Archive's newsletter and download your FREE copy of the Memoir of Col. Benjamin Tallmadge – a man who lived one of the most remarkable lives of the American Revolution.
Burr: A Novel
Who was Aaron Burr before and after his infamous duel with Alexander Hamilton? Burr: A Novel offers an imagined account of his life, as a fictionalized Burr confides about everything from his rumored connection to Martin Van Buren to his trial following Hamilton's death. Teeming with political intrigue and against-the-grain interpretations of historical icons, Vidal puts a compelling fictional spin on the nation's early history and one of its well-known anti-heroes.
Ladies of Liberty: The Women Who Shaped Our Nation
Women have often been sidelined in historical records and textbooks. But New York Times-bestselling author Cokie Roberts gives the unsung heroes of our young nation—the "ladies of liberty"—their much-deserved due. Of particular interest for Hamilton fans, is the inclusion of the Schuyler sisters who, alongside the likes of Abigail Adams and Sacagawea, helped to shape the United States as we know it.
Jefferson and Hamilton: The Rivalry That Forged a Nation
Aaron Burr wasn't Alexander's only enemy. Though they worked together as advisors for George Washington, Hamilton and Thomas Jefferson were never on the best of terms. The cause of their animosity? Beyond a shared stubbornness, they held vastly different visions of America. While Jefferson advocated for individual liberty, Hamilton championed a central government that would keep the states' powers in check. Ferling's book follows the political careers of these men and the impact their rivalry had on the country.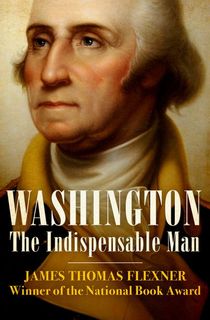 Washington
Spanning four volumes, this biography provides an in-depth look at the man whose life was so closely intertwined with Alexander Hamilton's. National Book Award winner James Thomas Flexner examines the finer details of Washington's military, political, and personal life to create a deeply humanizing portrait of the man whom Hamilton called "indispensable."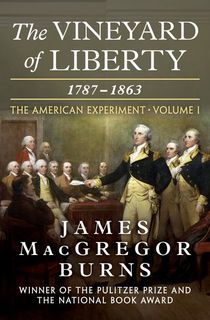 The Vineyard of Liberty, 1787–1863
To further understand the man behind the legend, why not dive into the history of the world in which he lived? Famed historian James McGregor Burns paints a vivid portrait of early America and the prevailing customs, cultures, and perceptions of "liberty" during Hamilton's time.
The Marquis: Lafayette Reconsidered
In his book, Ron Chernow indicates that some of Hamilton's male friendships may have been less platonic than we realized. One such friend was the Marquis de La Fayette who, like Hamilton, had lost his father in childhood and worked closely with George Washington. The Marquis explores the effects of such events on Lafayette's pursuit of glory and liberty, as well as his starring role in both the American and French revolutions.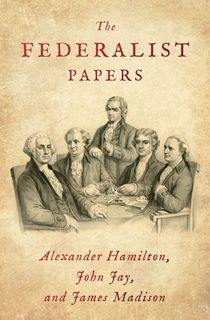 The Federalist Papers
With the help of James Madison and John Jay, Hamilton drew upThe Federalist Papers as a means of backing the ratification of the American Constitution. Even today, it is considered one of the most important historical collections, featuring landmark essays like Hamilton's argument for one executive ruler and for judicial review. To read The Federalist Papers is to track the driving motivators behind Hamilton's actions and the fiery conviction that made him one of America's greatest visionaries.
John Laurens and the American Revolution
Like the Marquis de La Fayette, Hamilton's relationship with John Laurens was one in which the line between friendship and romance was blurred. It's an assertion taken from their letters, usually effusive declarations of adoration, which they exchanged until Laurens' death, five years after their first meeting. Of course, the exact nature of their relationship can only be assumed, but Gregory D. Massey tries to understand their connection in his biography of Laurens' life. Beyond Laurens' association with Hamilton, Massey details his military career, his revolutionary ideas about African Americans, and his evolution into one of the key players of the American Revolution.
A Royal Experiment: The Private Life of King George III
A fan favorite for his outrageous role in the Broadway musical adaptation, Americans know George III as the malicious "mad king." A Royal Experiment seeks to shatter this image, focusing on how the monarch differed from his much less likeable predecessors. Instead of showing disinterest in his marriage and his children—the standard behavior of the former Hanoverian kings—George was a loving husband and father. Author Janice Hadlow shows a new side to the famous king: one that was driven by love, loyalty, and a dream for domestic peace.
Last chance: Sign up for The Archive's newsletter and download your FREE copy of the Memoir of Col. Benjamin Tallmadge – a man who lived one of the most remarkable lives of the American Revolution.
This post is sponsored by Open Road Media. Thank you for supporting our partners, who make it possible for The Archive to continue publishing the history stories you love.